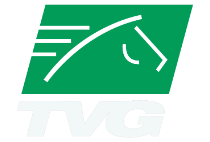 Colorado TVG Online Racebook Review
Published: Nov 13, 2020
Updated: Oct 29, 2021
$300
Screenshots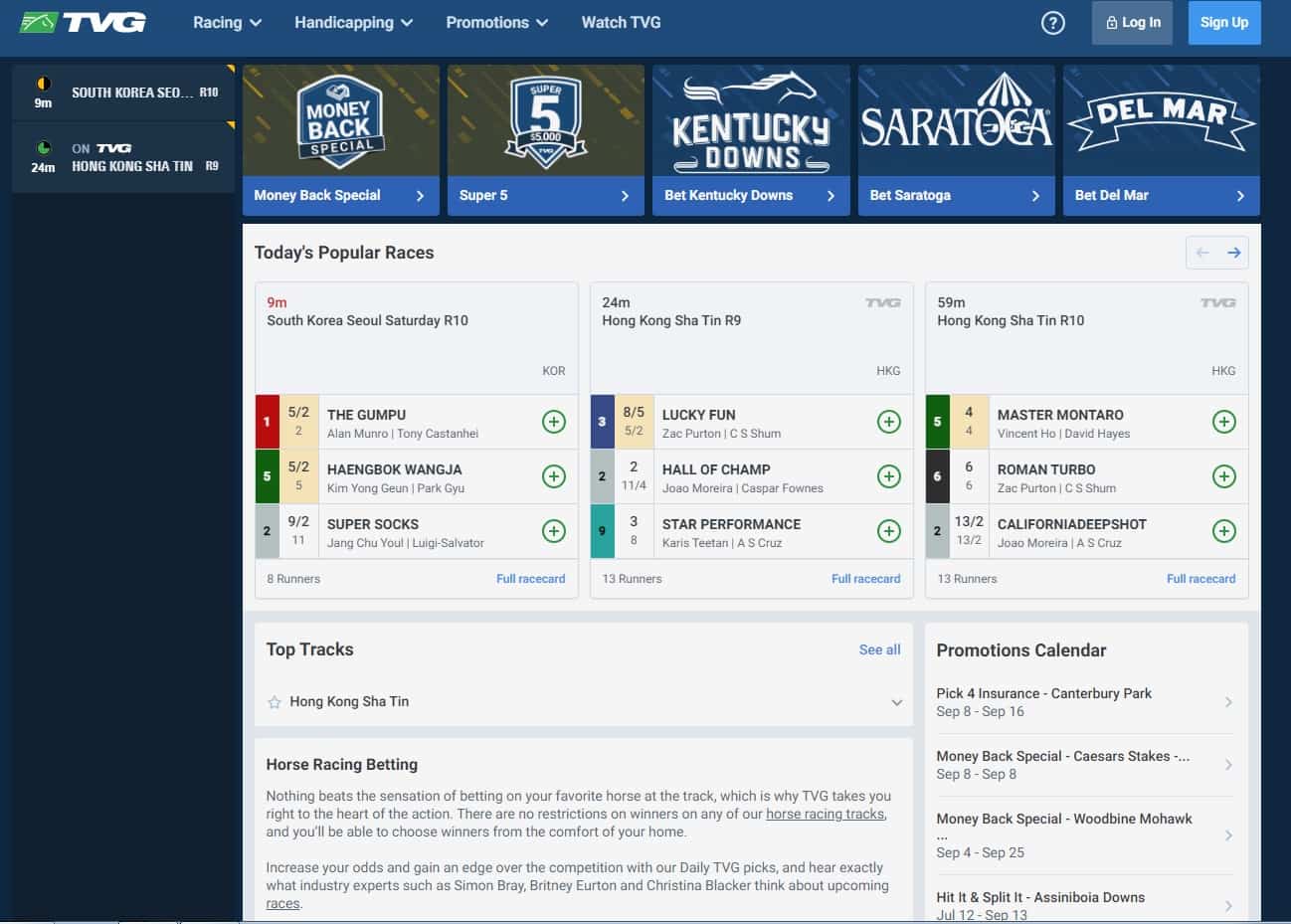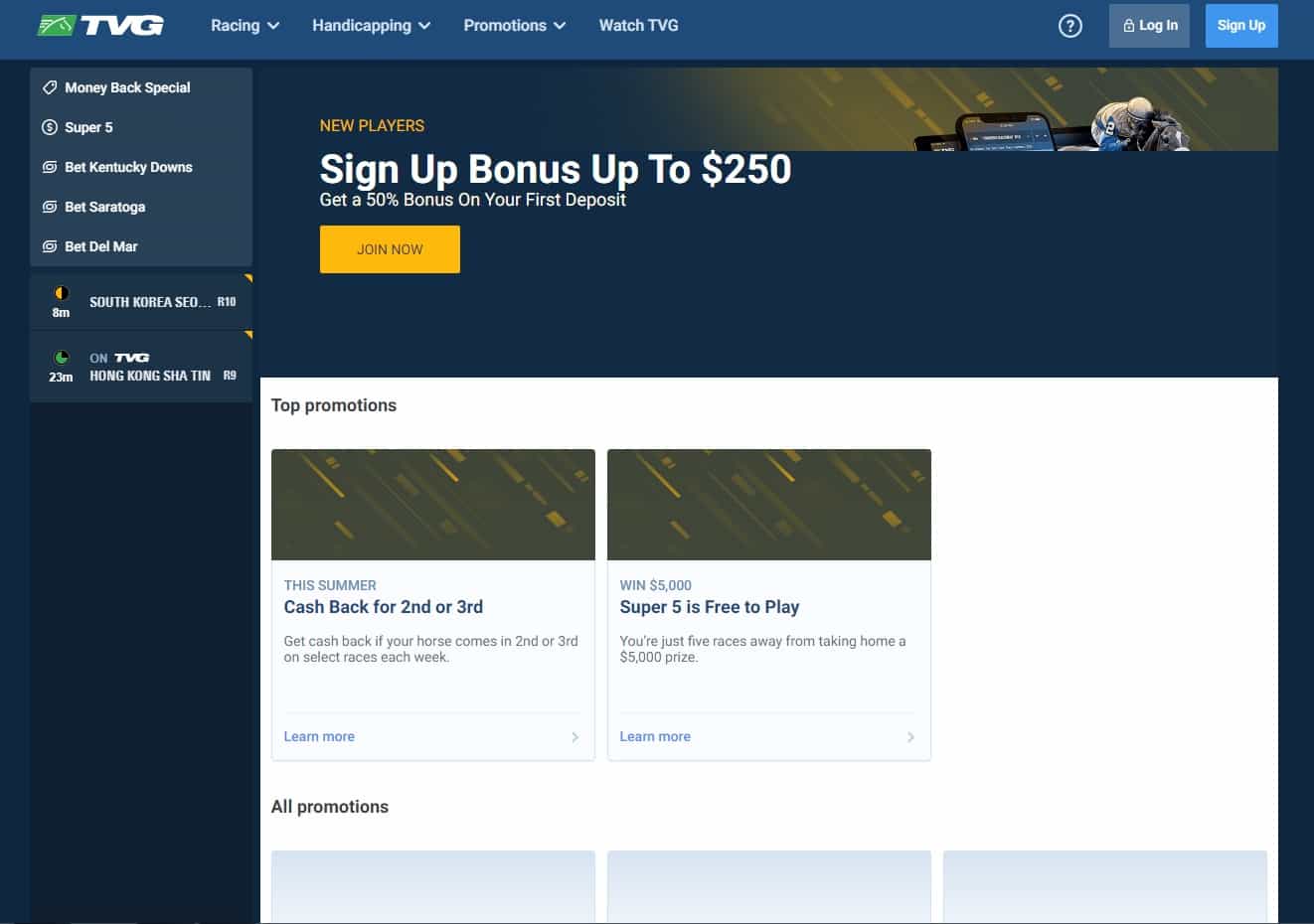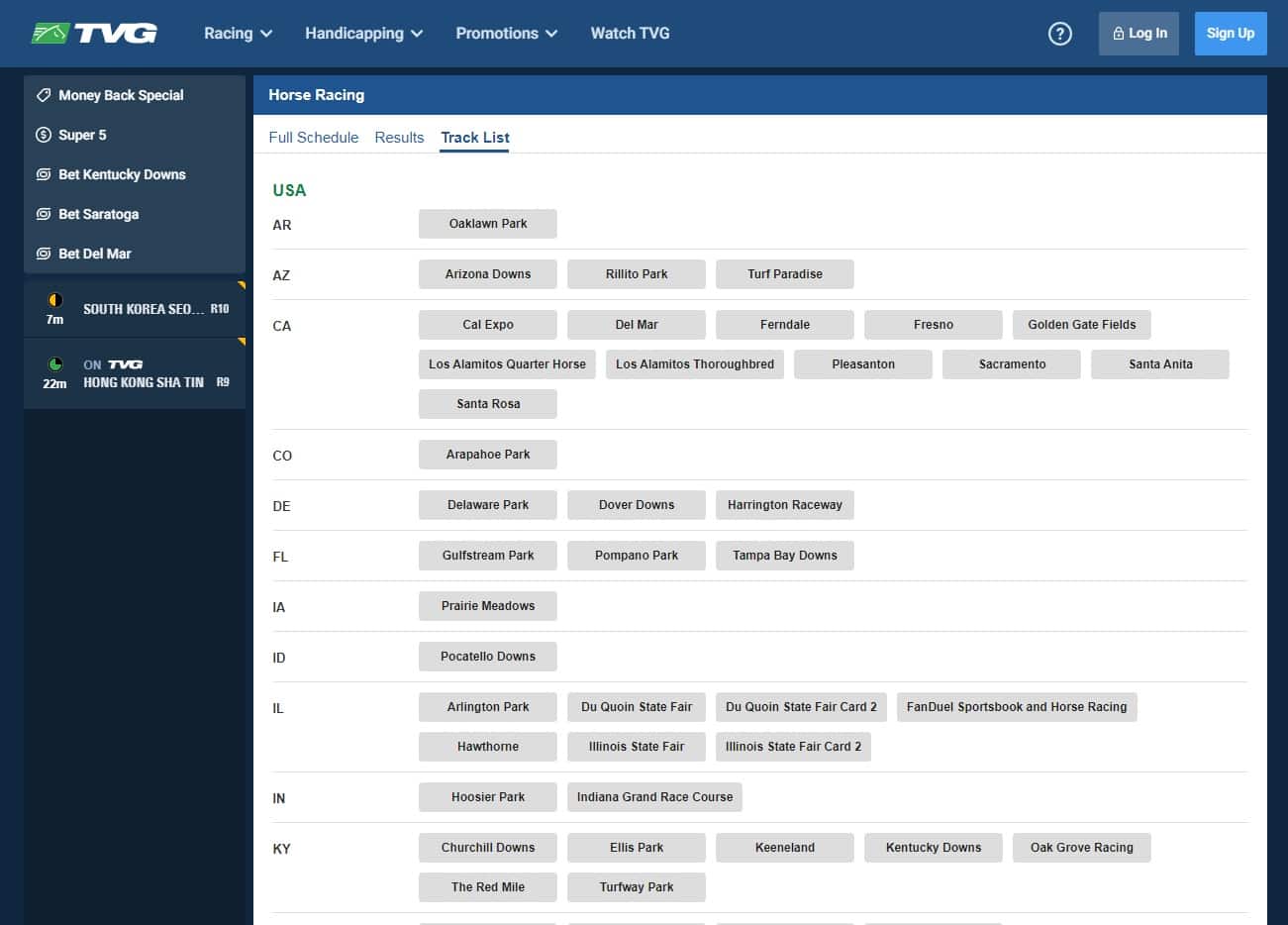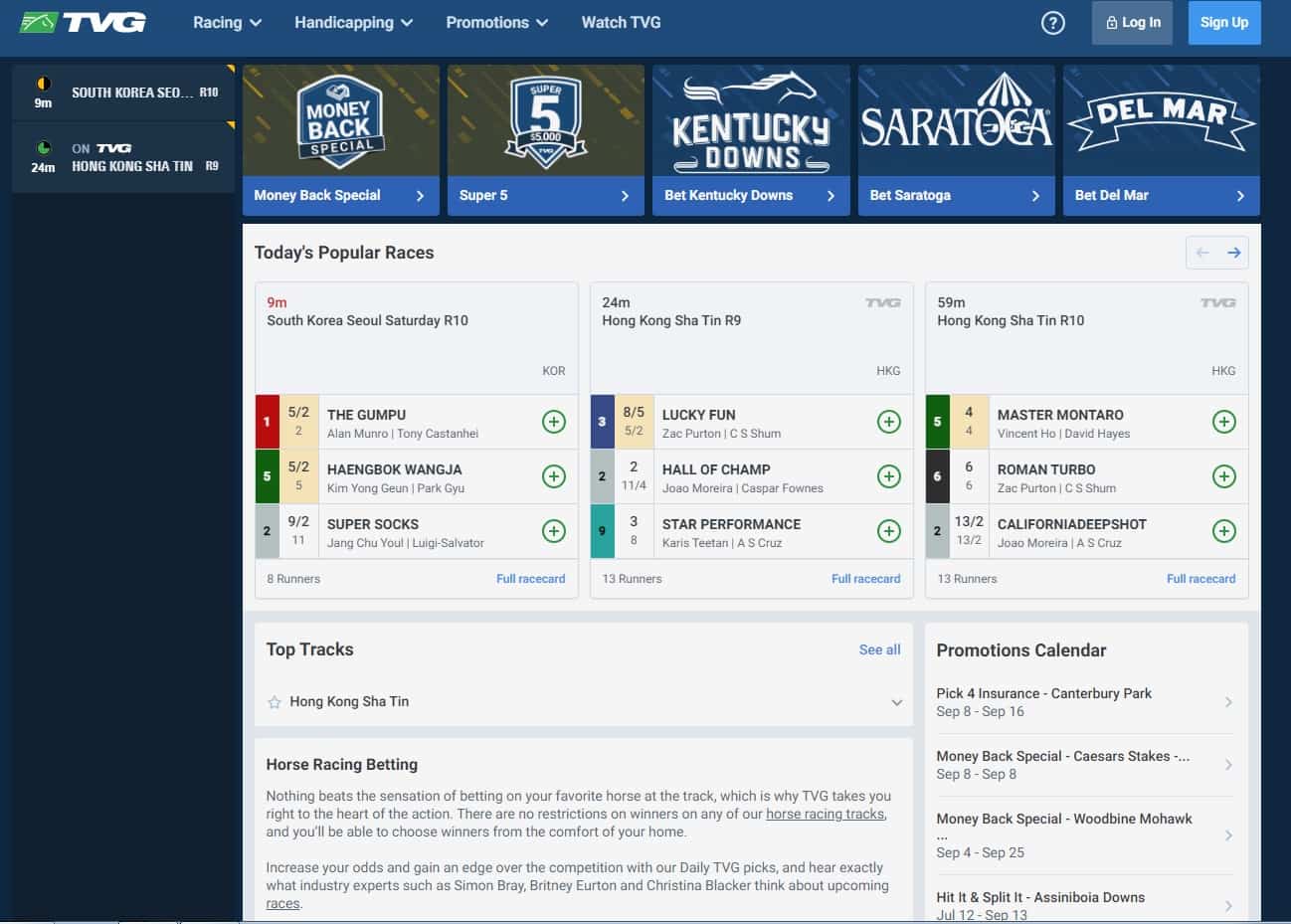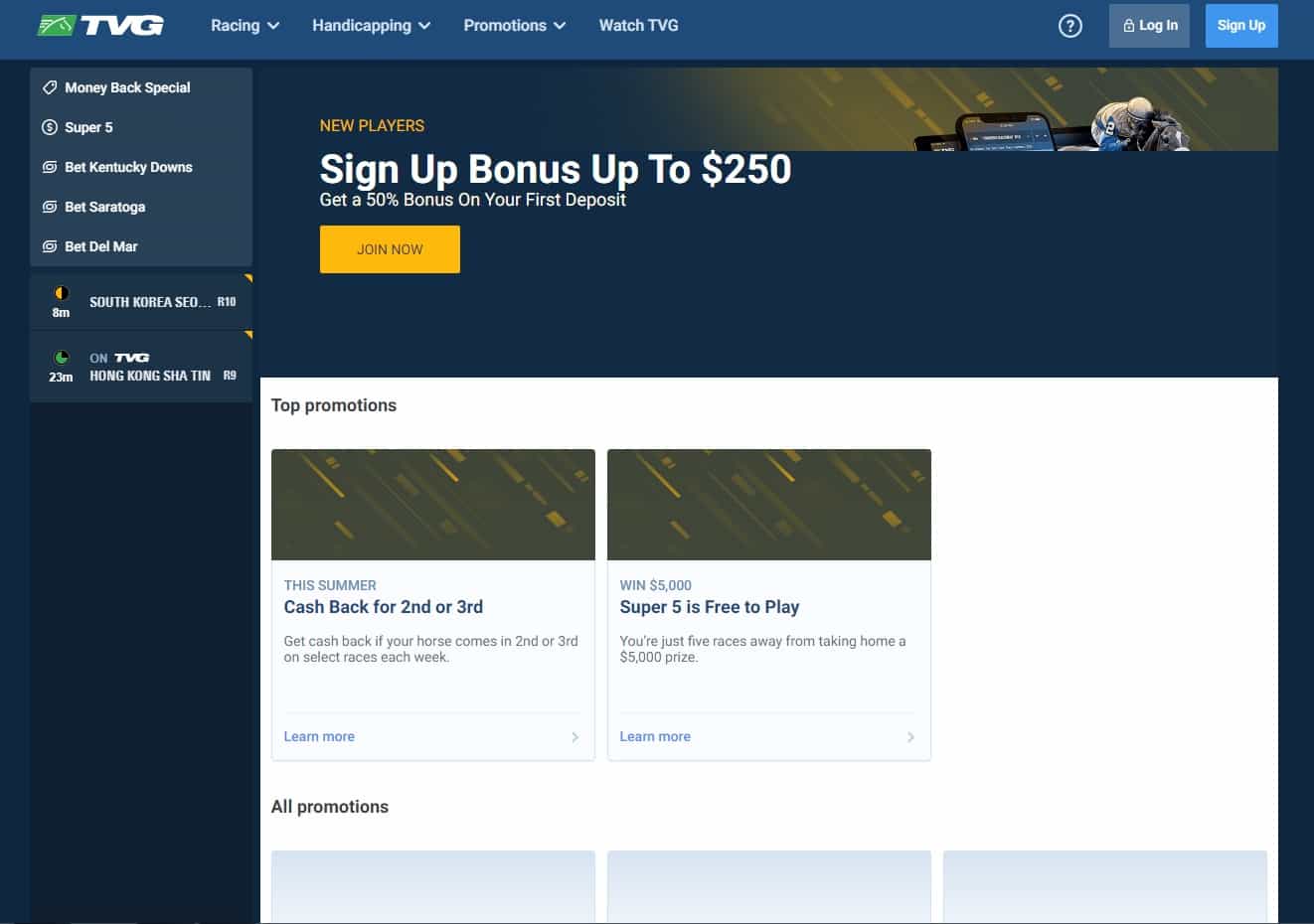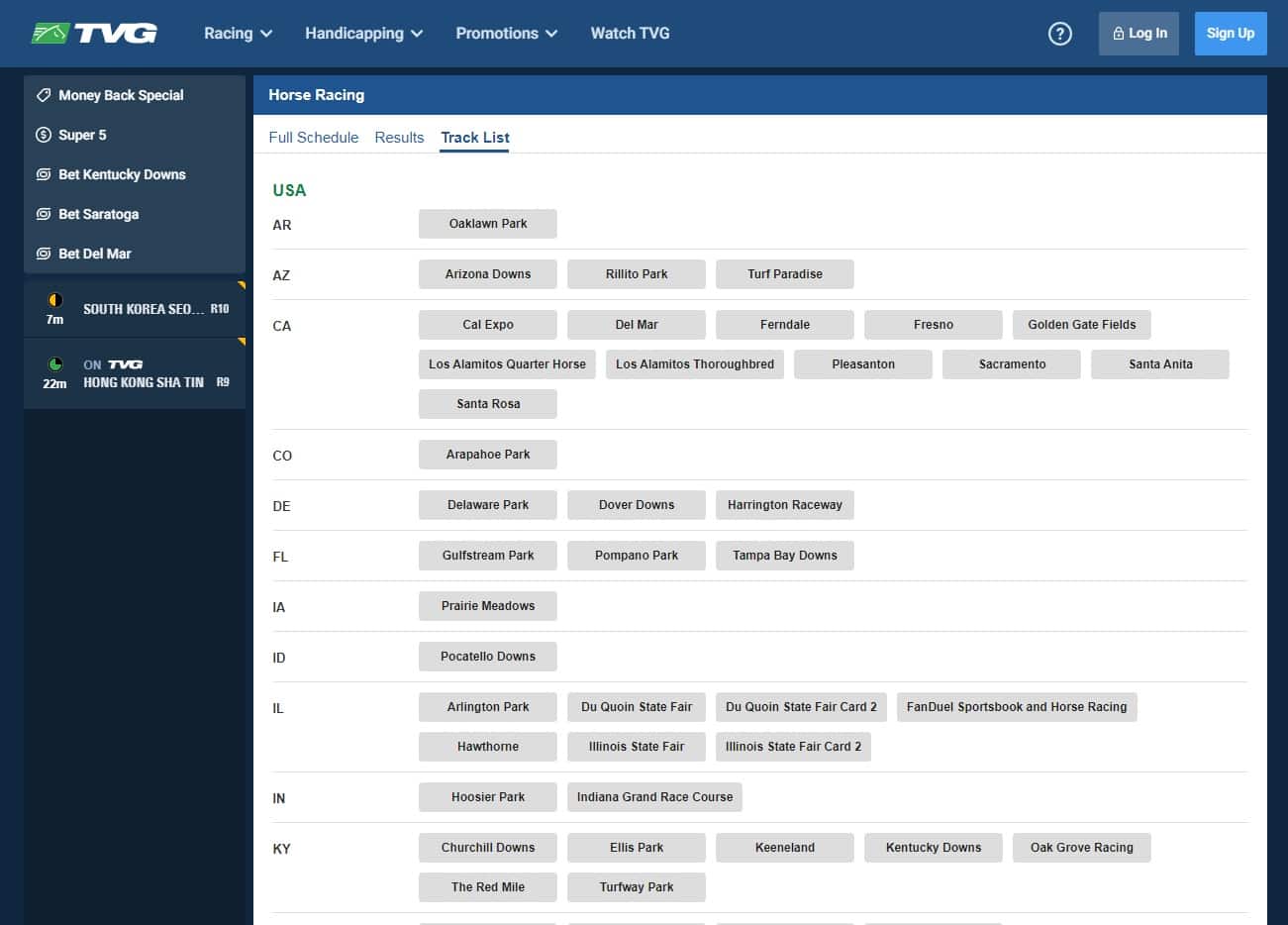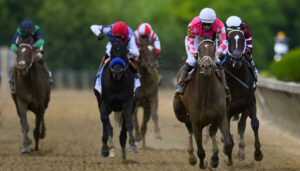 In horse race betting, TVG is one of the top names in the game. They provide a mix of live streaming of horse racing from tracks all around the globe. Besides, they also offer an excellent online service. Did you know that horse racing has always been in the state of Colorado for an extended period; since 1950? Thanks to many sites and mobile applications, residents can have a taste of online bets on horse races.
Based on the gambling law in the region, punters can wager on horse and greyhound racing. Some cities in the state have some casinos as well. There are lots of requirements that bettors need to meet for the best results. Ever since the inception of this network in 1999, there was a significant change in the industry. In this Colorado TVG review, you'd see the reason why users highly trust TVG.  You'd also get to see the different bonuses, promotions, and more available.
TVG Racebook Promotions & Bonuses in Colorado
Colorado TVG bonus offers and promotions are excellent. The platform allows punters to enjoy a risk-free first bet. Hence, you can comfortably place wagers without having to worry about losing money. Mostly, this bonus is beneficial to the new punters. As a bettor, you only need to create an account and use a Colorado TVG promo code. It's safe to say that a risk-free bet is a form of a welcome bonus.

If you're still trying to get a bet type that works well for you, this is a fantastic way to learn and win. Besides, if you've been into racebooks before, this is an added advantage. What does the bonus entail? If you place a bet and you lose it, they will make a refund to you. It's as high as $300 back. Ensure you read their terms and conditions for better comprehension. Make use of one of the top CO promo codes TVG provides like the RISKFREE1.
TVG Racebook Loyalty Programs & Special Offers in CO
Asides from the standard bonuses and promotions that we know as bettors, there are other extra benefits. One of the most typical kinds of promotions is the loyalty program. For this kind of program, you stand to receive loyalty or wager rewards points. For each dollar you utilize for wagering on TVG, you get a reward point. You don't need a Colorado TVG promo code to enjoy these loyalty programs.
At the point where you get as high as $2,500 rewards points, you get a wagering credit of $5. There's also a referral program available for punters. Once you're able to get a friend to register on TVG, you have the chance to win an incredible bonus. You get up to a $25 match-up bonus, and your friend can win a $25 match bonus as well. Ensure that you utilize the website often to enjoy these offers.
Colorado TVG Types of Bets to Wager
When engaging in TVG race betting in Colorado, there are different betting options to enjoy. If you're familiar with any of them, you can decide to stick to one. However, if you want to explore some of the options with the best Colorado TVG racebook odds, that's good as well. Here are different types:
Win: It's easy to comprehend this type of bet. With this, you can have a successful bet when your selection finishes first. It's one of the most accessible types of straight wagers you can find in TVG. Besides, it's also suitable for new punters.
Place: Similar to win, the place is also a kind of straight wager. However, you won't be placing bets based on who finishes first. For this bet option, you can wager based on who finishes second place. It's excellent for new bettors as well.
Show: This bet type is common around new punters. It's a type of straight wager as well. However, it doesn't work based on the principle of win or place bets. For this option, all you need to do is bet on who finishes last.
Exacta: Unlike the straight bets, this works differently. On TVG, you can bet on the horse that will win first or second place. Please note that it's similar to combining the win and place wagers.
Trifecta: Just like Exacta, you'd be picking more than one horse. Here, you have the chance to select the first three finishers of the race in the right order. In other words, you're combining the win, place, and show bet.
Quinella: Similar to Exacta and Trifecta, you'd be choosing more than one bet type. You have the opportunity to pick the first two finishers of a race in no specific order. It's more flexible and less detailed than the other options.
Superfecta: There's a close relationship between this bet type and Trifecta or Exacta. For this bet option, you'd be picking more than one horse. You'd be choosing from the first four horses in an appropriate order.
Daily Double: Unlike the common types of bet, daily double works based on a completely different principle. Here, you'd not be picking from just a race. Daily double deals with the bettor choosing a horse from two consecutive races.
Pick 3/4/5/6/7/8: For this type of bet, you're wagering based on an interesting principle. You'd be selecting winners from first to fourth, or more places. As a bettor, you can wager on as much as the complete eight places.
TVG Racebook Mobile/App in CO
Mobile betting is one of the essential things that every platform should possess. It's rare to see bettors wager using desktops. Besides, many punters place bets in different locations. Hence, an app is a very crucial requirement. Starting with the website, TVG seems to be doing a great job. The TVG app is entirely user-friendly. In order words, when using their official website with your mobile phone, you shouldn't face any challenges.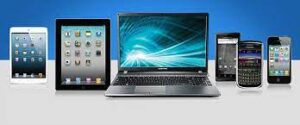 As an Apple user, you can make use of the iPhone app from the iTunes store. However, if you're using an Android device, you may need to visit TVG directly in Colorado. There is no TVG Android app in the meantime. So, you can log in to the official site, place bets, and monitor your races as well. Even though their website is relatively new, they seem to be taking the proper steps that any website should take. For instance, they have an intuitive website with a menu and different selections to enjoy.
In terms of their navigation, they have ensured that it's clear and comprehensive. Hence, you can work your way around the website or mobile application without the need to read any manuals. Live streaming is available on the main website for in-game live betting. Punters who want to enjoy this feature only need to tap "LIVE." Under the "LIVE" section, you have the chance to scroll through different races and pick what works for you.
One option that you'd find unique as a punter is the "Race Alerts." There, you can get a notification five minutes before a race begins and another message on the result of the wager. Please note that you can turn notifications on or off, depending on your choice.
Colorado TVG Banking & Withdrawal Methods

The importance of banking and withdrawal methods cannot be overstated. Every website must have a long list of options to follow. When there are enough payment methods, the bettor can use any of them. Withdrawal options are equally critical when talking about TVG. There's a lower tendency for a punter to face any problems while placing bets when there are enough options for deposits or withdrawal.
Each of the available TVG deposit and withdrawal options has different minimum and maximum amounts. In other words, you are not permitted to deposit below a specific amount for wagering on TVG. Moreover, the speed for each banking method also differs in Colorado. As a punter, you may find the use of debit or credit cards more common compared to others. Here's a list of the different banking methods available in Colorado:
BetCash: With this option, you can make both deposits and withdrawals. Ensure that you fill out the BetCash form below the TVG's deposits page. As a punter, you can deposit by using a standard checking account online or talking to a customer service representative on the phone.
Wire Transfer: Start by filling up a Wire Transfer form, and take it to your bank. The deposit will be made on the same day or the next business day. Wire Transfers below $1,000 will follow a $15 charge.
PayNearMe: You can make deposits at some stores. For instance, some stores similar to CVS, Family Dollar, and 7-Eleven have options for making appropriate deposits. In these stores, you pay by making use of barcodes.
Debit/Credit card: Many of the banks permit deposits by using debit or credit cards. However, ensure that you confirm whether or not your bank permits the use of debit or credit cards. There's a fee of $5 on this method of deposit.
Green Dot Moneypak: Ensure that you pick up cards at places like Walgreens or CVS and make a deposit online. Unlike other methods of deposits and withdrawal, this is a little uncommon in Colorado.
Prepaid cards: If you're 21 or above that age, you should apply for TVG's prepaid card. Using the card will make your deposits straight from your bank. In Colorado, there is a $5 fee on deposits.
PayPal: One of the most common types of deposits is the use of PayPal. You can make use of your personal PayPal account to make valid deposits. However, there's a $10 charge on residents of Colorado.
Asides from the list of payment methods above, others like cash deposits and money orders or checks. Besides, TVG is safe and secure, and there's no report of fraud or scams on the official website. With MasterCard and Visa's use, you can deposit as high as $25,000 per day or $100,000 per month.
Colorado TVG Customer Support
Currently, there is no live chat feature for TVG in Colorado. In a certain way, that is a disadvantage. Many racebooks don't support live chat, but we hope that is included in TVG soon. Live chat is an excellent feature that helps punters have solutions to their problems in no time. Even there is no live chat; you can get support from Twitter. Hence, punters cannot feel the effects of the absence of a live chat feature.
In terms of speed, Twitter accounts are not very comfortable for punters. For instance, when a race is about to start, you can't trust the TVG customer service to provide immediate responses. There's good news. On their page, you can access a long list of videos that will make you comprehend the essential things that the site provides.
Latest News

Currently, the racebook focuses on horse racing with no additional sports or other extras like the greyhounds. If you're a fan of horse races, you can get all you need on the website. There are lots of advantages surrounding wagering Colorado with TVG. Now, you bet on the Kentucky Derby in Colorado with TVG racebook. The 146th edition of one of the best two-minute sport runs from Churchill Downs, meant to be held on 5th September 2020. For the 2021 version, that should come up on Friday, 30 April, and end on Saturday, 1 May. Please note that the Colorado market should be open for this event.
Conclusion
Colorado is a fantastic state for wagering on horse racing. Using TVG in the state is an added advantage for the residents of the state. For instance, bonuses and promotions are very encouraging. Besides, with the presence of special offers like the referral and TVG rewards point, punters have a lot to gain. There are lots of bet types you can enjoy as a punter on the site as well. Ensure you stick to the one that works best for you. If you want to explore others, you can do that as well. Thanks to the site's safety and security, you can comfortably place bets on the website without having to worry about losses.
Choosing the right sportsbook is a complicated process that requires you to check different platforms before you start playing. Fortunately, we prepared all information in our reviews, so it is highly recommended to read these articles to learn more about other websites in the US (Colorado) and pick up the best one:
FAQs
Is TVG online racebook legal in Colorado?

The legal status of a racebook is highly essential to stay safe. For Colorado, TVG online racebook is entirely legal. Hence, you don't have to worry about getting in trouble when placing bets.
How can I watch horse races in Colorado?

With the TVG online racebook app, you can enjoy the live streaming feature. They make use of a live Twitter feed to show the races.
Is there an iOS app on TVG?

Apple device owners have the opportunity to make use of the TVG racebook's app. As a punter, you can download it directly from the Apple store.
Is the greyhound betting available in Colorado?

In the meantime, greyhound betting is no longer available in the state of Colorado. However, there are other options, like greyhound racing and horse racing.
Written by: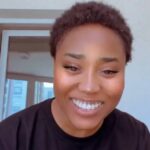 Author, Contributor at Luckycolorado.com. Jeannie is one of our top writers and gambling experts. Jeannie is an active poker player, and she knows a lot about all kinds of gambling games and sports betting.
Best DFS Betting Options and Online Sportsbooks to Bet!