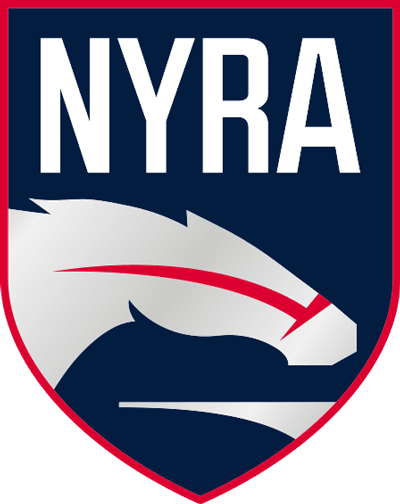 Nyra Bets Racebook for Real Money Sports Betting in Colorado
Published: Nov 13, 2020
Updated: Oct 29, 2021
$200
Screenshots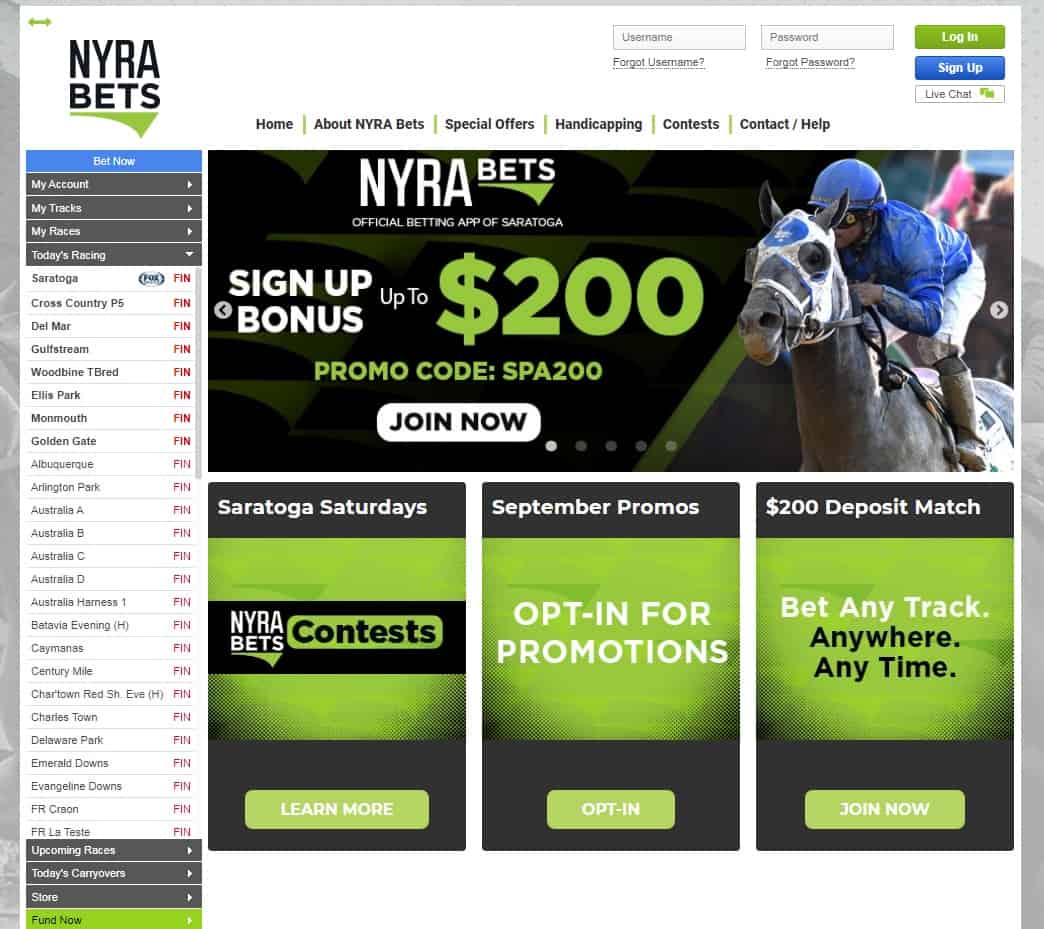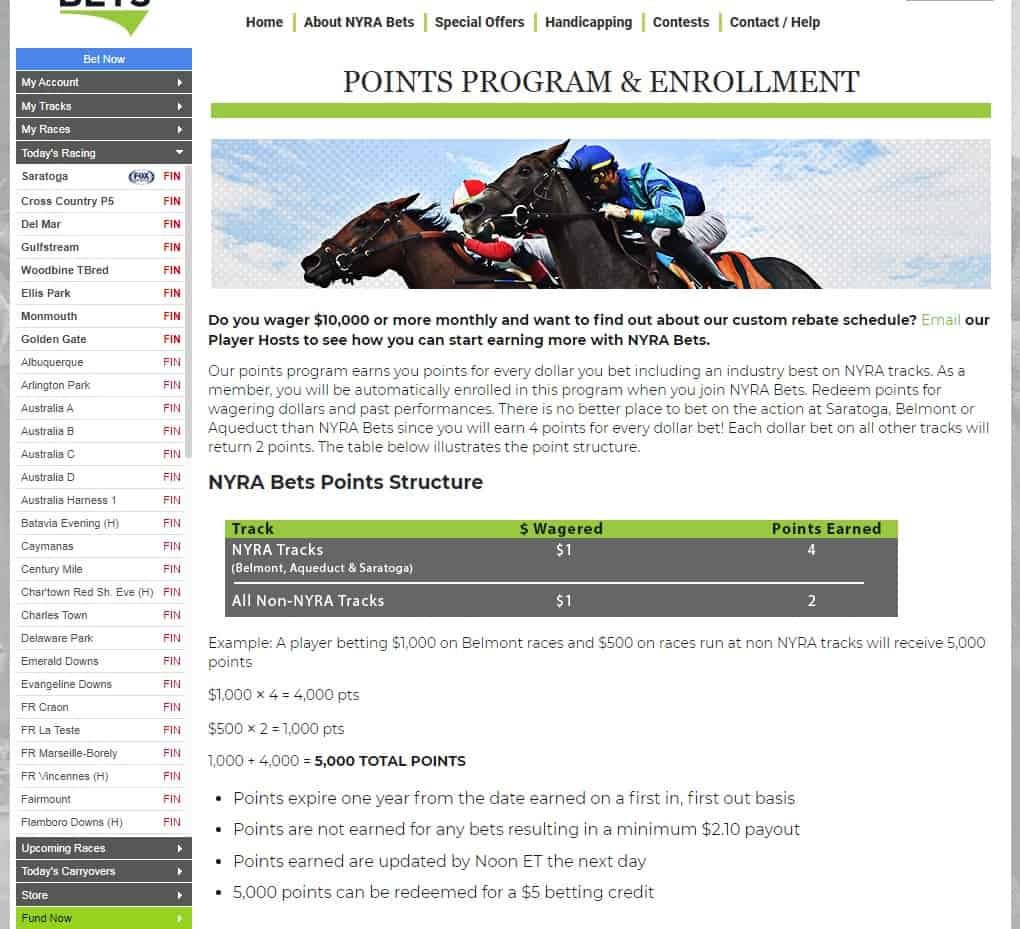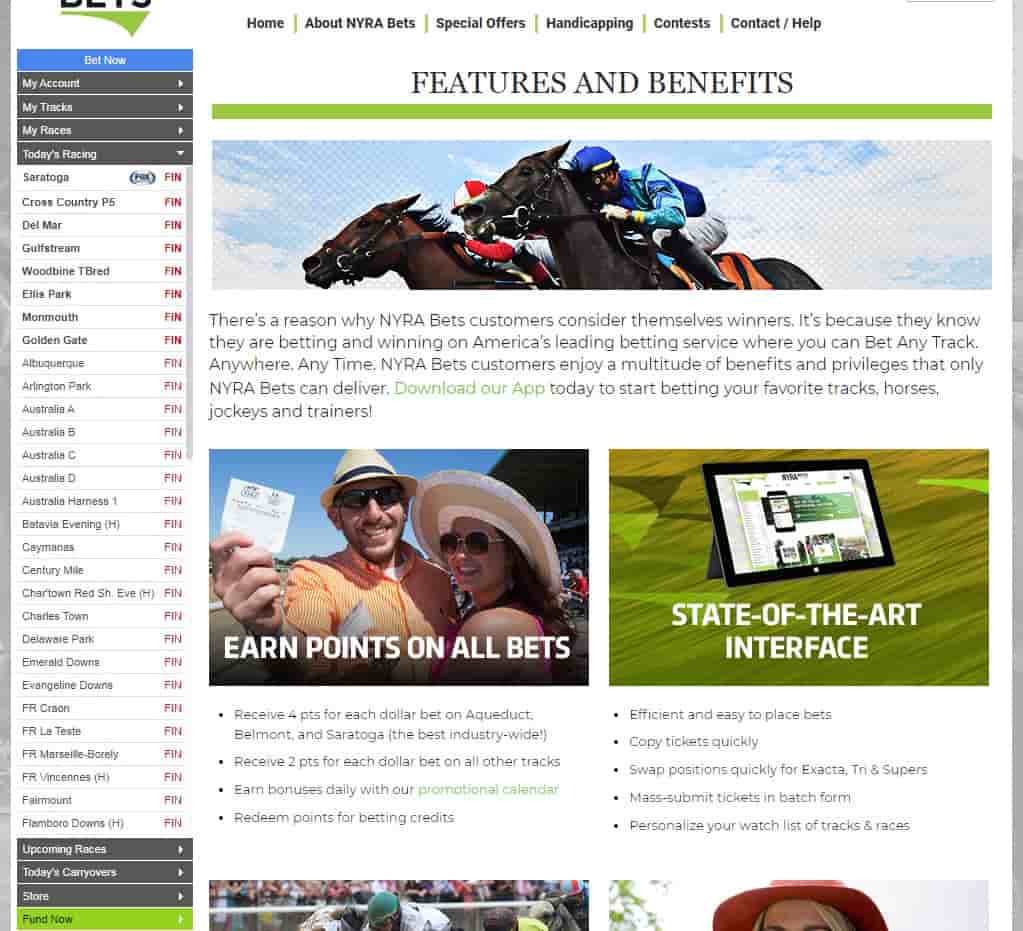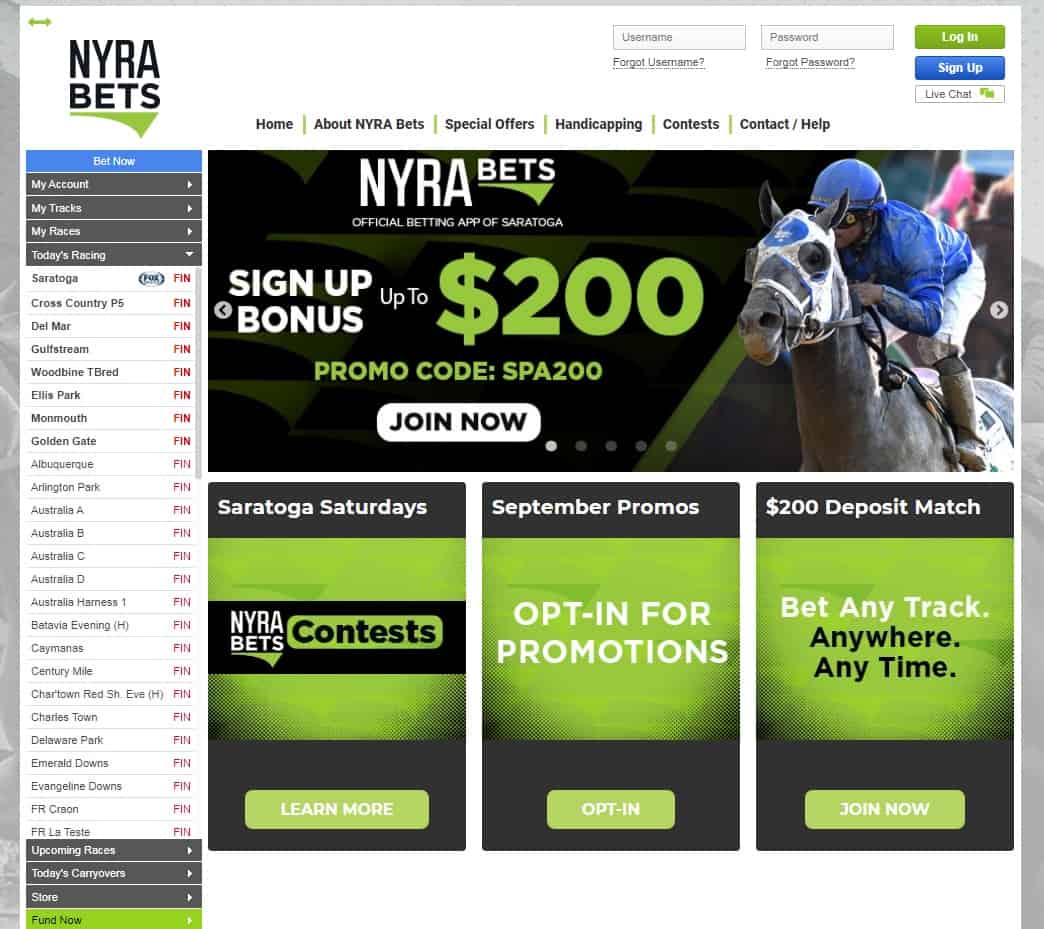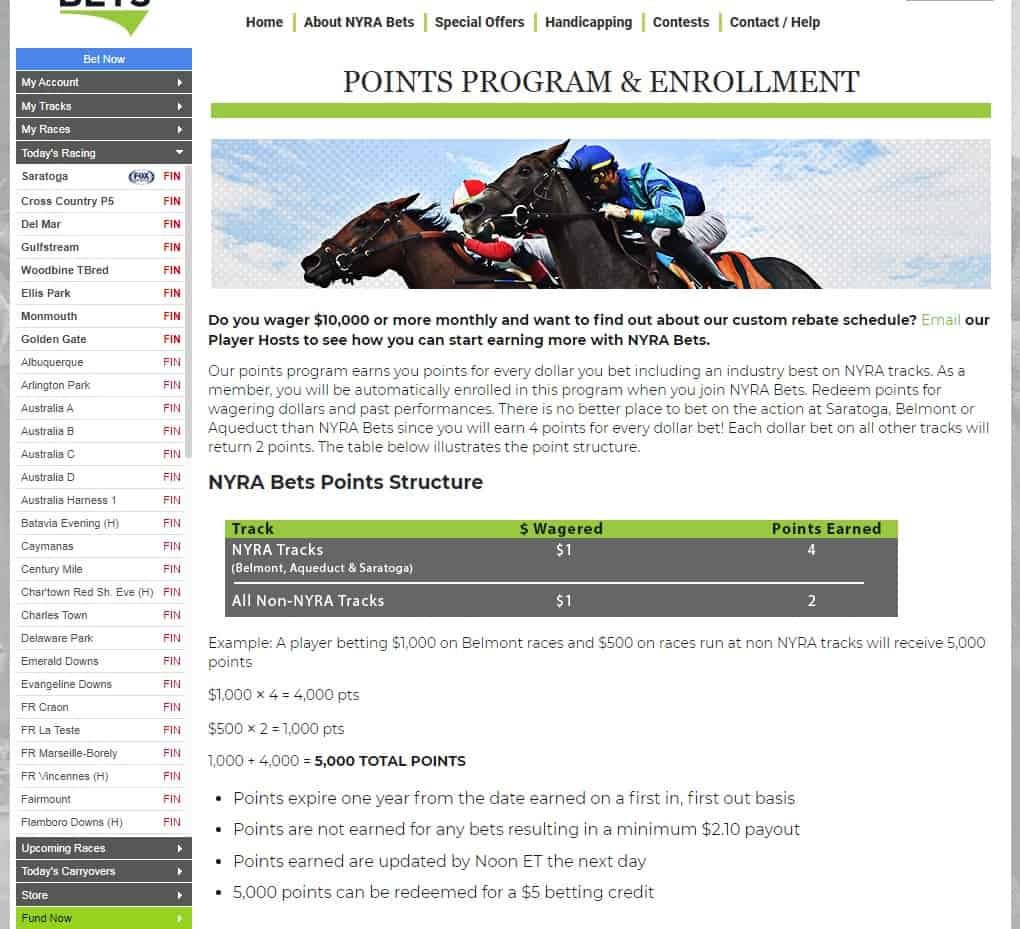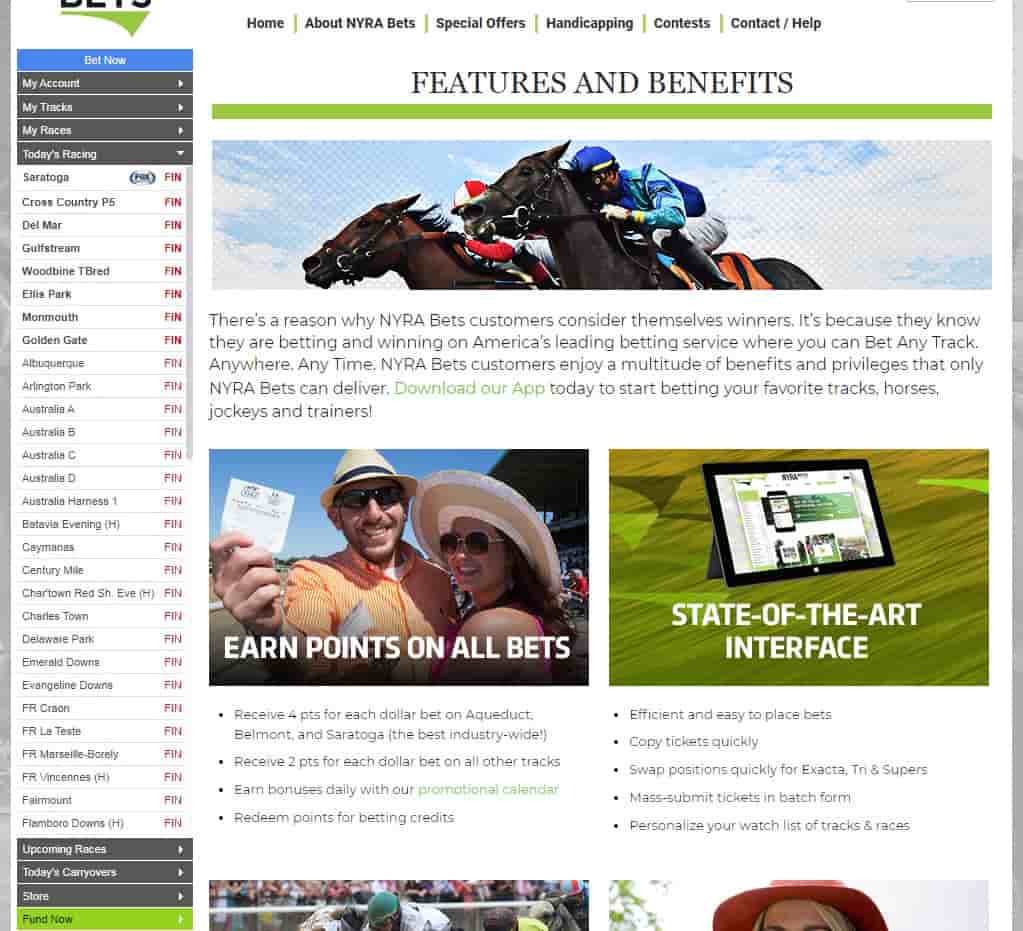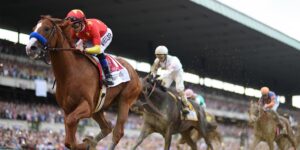 Nyra is an abbreviation for New York Racing Association. The US racebook was founded in 1955 and premiered with three of the largest racetracks in America; The Saratoga, Belmont Park, and Aqueduct Park race tracks. Currently, they provide wagering services for harness, thoroughbred, and quarter horse racing in more than two hundred race tracks worldwide.
Nyra bets racebook is one of the legal race betting sites in the US and provides a vast selection of offers to give gamers full experience. The site is regulated by Oregon and New York states and is licensed to offer betting services to thirty American states, including Colorado. The site remains one of the gamblers' top picks because of the numerous wagering benefits. These include; HD live video streaming platforms, betting apps, optimization to work on most device operators, Nyra Bets handicapping tips, up-to-task customer service agents, security,  bonuses, and promotional offers.
Colorado Nyra Bets Promotions and Bonuses

The site offers exciting bonuses and promotional deals to attract clients and hold their patronage. There is a welcome bonus offer for new clients of a 100% match bonus up to $200. Players must claim the Colorado Nyra Bets bonus by signing up to the site, using the Nyra promo code MATCH200. They make a first-time deposit within a month, and a subsequent deposit of 2x the initial amount, all within the first month of creating an account. Once the bettor can fulfill these requirements, a wagering credit of $200 will be credited into his gaming account. Match bonuses expire if they aren't claimed within thirty days. The Nyra Bets promo codes are updated from time to time.
Nyra Bets race betting in Colorado has a monthly promotional calendar for special events that offer bonuses and free PPS. The Preakness, Belmont, and Kentucky derby stakes may come with a series of promotional deals. The site also provides free handicapping strategies to players, made by experts. These promotional packages are introduced regularly, so; it is advisable to keep up with the calendar.
Special Deals and Rewards for Nyra Bets Loyalty Customers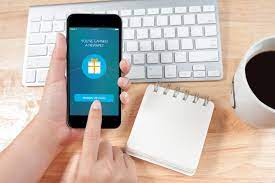 There is a Nyra points program where you earn 2 points on every 1 dollar that you wager. The 2 points standard excludes the Saratoga, Belmont Park, and Aqueduct Park race tracks; here, gamers earn 4 points per dollar. Players can stack up on as many points as possible and redeem them for wagering credits. New members are automatically registered to join the points program; however, old clients who signed up before introducing the program have the option to register on the site's enrollment page. They will need to fill out the enrollment form requesting their names, dates of birth, account numbers, email addresses, and phone numbers. These points have a one-year claiming period, after which it expires. Five thousand points equal to $5 wagering credit.
The Nyra rewards point program is one of the rewards for race bets. It is a medium for the site to give back to its customers for continued patronage, and a means to earn extra credits.
Nyra racebook may hold loyalty programs to run for one year. These programs come with nine levels: bronze, bronze+, silver, silver+, gold, gold+, platinum, platinum+, and diamond.
Race Betting Types in Nyra Bets Colorado
Nyra Bets Colorado racebook has several types of betting, including; win, show, place, exacta, trifecta, superfecta, daily double, quinella, pick 3, pick 4, pick 5, empire 6, and a grand slam. The daily double is for multiple race bets where bettors choose the winners for two different races. Quinella is a straight bet for picking two horses to come in first and second places, in no exact order. Grand slam is to stake on horses to finish first, second or third in the first three legs, and pick the fourth and last legs' winner. Empire 6 is a multiple race bet to predict winners of six different races while. The wagering type, amount, and odds on each horse are what determines your payoff. The win, place, show, exacta, daily double, quinella, and pick three bets require a minimum wager of $1. The trifecta, pick four, and pick five have a $0.50 minimum requirement. Superfecta carries the least wagering amount of $0.10, while empire 6 is $0.20.
There are instances when they may be refunded. For example, the win, place, show, exacta, trifecta, superfecta, and quinella wagers will grant a refund when there is a late scratch. A late gash in the first leg of the daily double, and pick three bets will call for a refund. There is a refund policy for three or more canceled legs in pick four and pick five.
Note that the site retains a takeout percentage from every wager. The pick 5 has a 15% takeout, while win, place, and show is 16%. Payout is 18.5% for the exacta, quinella, and daily double. Empire 6 is 20%, while 24% is for trifecta, superfecta, grand slam, pick 3, and pick 4.
Nyra Bets Betting Types in Colorado
Win: The win is a straight one. It is the traditional wager where bettors stake on their horses to come first place in a race.
Place: The place bet is another straight one where a player's horse finishes in first or second place.
Show: Here, the wager is on the player's horse to finish first, second, or third.
Exacta: The exact bet is when bettors wager on two horses to win first and second positions, in that exact order.
Superfecta: Superfecta bet is a tough one where bettors wager on four horses to finish in the first, second, third, and fourth positions, in the exact order.
Trifecta: The trifecta bet is on three horses to finish in the first, second, and third positions, in the correct order.
Pick 3 – This multiple race wager is on three horses to win three consecutive races.
Pick 4 – The pick-4 bet adds one more wager to pick-3. It is when players wager on four horses to win four different races.
Pick 5 – An added wager to the pick 4 makes the pick 5. Here, wager on five horses to win five consecutive races
Pick 6 – This wager is the toughest of all the multiple bets and can earn huge payoffs. It is when gamers steak on six horses to finish first in six consecutive races. Nyra racebook calls it empire 6.
How to Play Nyra Bets on Mobile Devices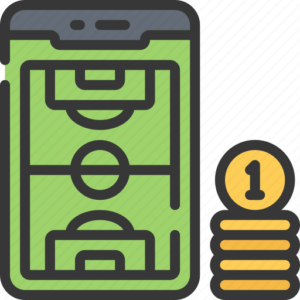 Multiple mobile platforms are one of the reasons why Nyra Bets is loved among sports bettors in Colorado. There are a high-functioning website and two mobile applications, each of which is optimized to work on IOS and Android devices. The IOS application software is available on the play store while the Nyra Bets Android app is available for download. The CO Nyra Bets app is designed to run smoothly on operating systems and provide all the racebook services.
You can make use of different features like live video streaming, race replays, online wagering, deposits, withdrawals, bonuses, and rewards. The app also makes it easy and convenient to track your picks and manage your gaming account.
All mobile platforms come with an easy-to-use interface that makes it easy to navigate and surf through.
Banking Methods Available in Nyra Bets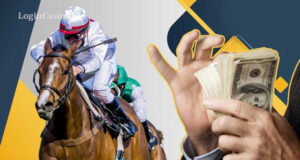 There are several deposit and withdrawal platforms in the Nyra Bets racebook. Bettors can fund their accounts through these platforms: express funding, Mastercard, Visa, Moneypak, Nyra Bets play, and Paynearme. Deposits may be on track, bank wire transfer, Nyra bets play+ card, personal check, and money orders. Express funding is the easiest and fastest way to fund your gaming account and comes with no charges. Credit cards come with a $5 convenience fee, with varying bank charges. Credit and debit cards have a maximum deposit amount of $1000 per day, $3000 per week, and $5000 per month. Credit cards have a minimum deposit of $50 per transaction.
The Nyra Bets play+ card can be used for deposits and withdrawals. It has many benefits like; instant withdrawals, no enrollment fees, no monthly charges, and a high approval rate. Players can register for the play+ card and receive it via mail in 10 to 14 days. Cash deposits may be made at the Saratoga, Belmont, or Aqueduct racetracks. Players can also make deposits via mail in the form of personal checks or money orders.
A cash card may be used for on-track wagering on Saratoga, Aqueduct, and Belmont racetracks. Cash cards do not come with a charge and are available at Nyra racetracks.
Nyra Bets Customer Service
Colorado Nyra Bets review has shown that customer care is a top priority and is regarded as such. The site has a host of expert customer service agents to oversee customer needs. The live chat is suitable for first-time visitors who may need a thorough explanation before signing up. There are many problems that players may encounter while signing up, or transactional delays now and then. The agents can be reached via multiple platforms like the Nyra Bets horse racing phone number, live chat, and email. Also, the site has several helpful tutorials to put through its activities.
Nyra Bets customer service has varying hours of operation per day, which are available on the site. Many bettors have had similar questions to yours, so; it is advisable to check out the site's FAQ section for your already answered questions.
Recent Updates in Nyra Bets
On the Nyra bets racebook calendar, there are many upcoming games – Belmont stakes scheduled to take place during fall 2020.
They have the champagne (BC), flower bowl (BC), frizette (BC), jockey club gold cup (BC), and sands point games all set to hold on October 10th. The futurity and matron games are placed on hold on October 11th, while hill prince and knickerbocker are on October 12th. The flower park is scheduled for October 17th. A total of 10 games are fixed for Sunday, October 24th, namely; Mohawk (NYB), sleepy hollow (NYB), empire classic (NYB), empire distaff (NYB), Hudson (NYB), maid of the mist (NYB), Iroquois (NYB), and Ticonderoga (NYB). Athenia is set for October 25th, while the 27th is for awad, zagora, and bold ruler. November 1st is the final day for the Belmont stakes with Chelsea flower and pumpkin pie games.
Just recently, Nyra bets recorded huge wins at the end of the Saratoga racetrack meet in September, finishing with over $700,000,000.00. This amount is a big win for the racebook, considering the significant reduction in on-track bettors due to the Covid-19 pandemic. Nyra produces a show called 'America's day at the races' where they will be televising the Belmont park races on channels like MSG+ and Fox sports stations. The site also has a podcast where bettors and racebook fans connect with high-flying personalities in the racing world.
Conclusion
Nyra Bets Colorado online review depicts it as one of the best sports wagering services in the state. Players can rest assured of a full gaming experience and real money payouts. Bettors are guaranteed a variety of horse racing games, convenient banking methods, and security of funds. In Colorado, sports gamblers should visit Nyra Bets directly in Colorado and sign-up for top-notch service, and benefit from its many features.
Choosing the right sportsbook is a complicated process that requires you to check different platforms before you start playing. Fortunately, we prepared all information in our reviews, so it is highly recommended to read these articles to learn more about other websites in the US (Colorado) and pick up the best one:
FAQs
Is Nyra Bets online racebook legal in Colorado?

Yes, it is. Nyra Bets is licensed to provide sports wagering services to the state of Colorado.
How old should I be to bet on horse races in Colorado?

You must be 18 years old and above to partake in Nyra bet Colorado wagering services.
Is there an Android app on Nyra Bets?

Yes, there is. Nyra bets have an application software designed to run on Android operating devices and may be downloaded from the website.
What is superfecta?

Superfecta is a multiple race bet on four horses to win first, second, third, and fourth places in 4 consecutive races. This wager is high-risk as the horses must win in the exact order.
How can I check odds on Nyra Bets?

You can check the CO Nyra Bets racebook odds when you sign-up for mobile betting accounts. The site provides gamblers with all the details needed to wager.
Written by: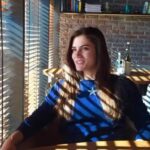 Author, Contributor, Law Expert at Luckycolorado.com. Karen is our writer and contributor who tells you the latest news and trends in gambling industry that take place in the United States.
Best DFS Betting Options and Online Sportsbooks to Bet!