All You Need to Know About Yahoo Online DFS Betting in Colorado
Published: Nov 13, 2020
Updated: Oct 29, 2021
$10
Screenshots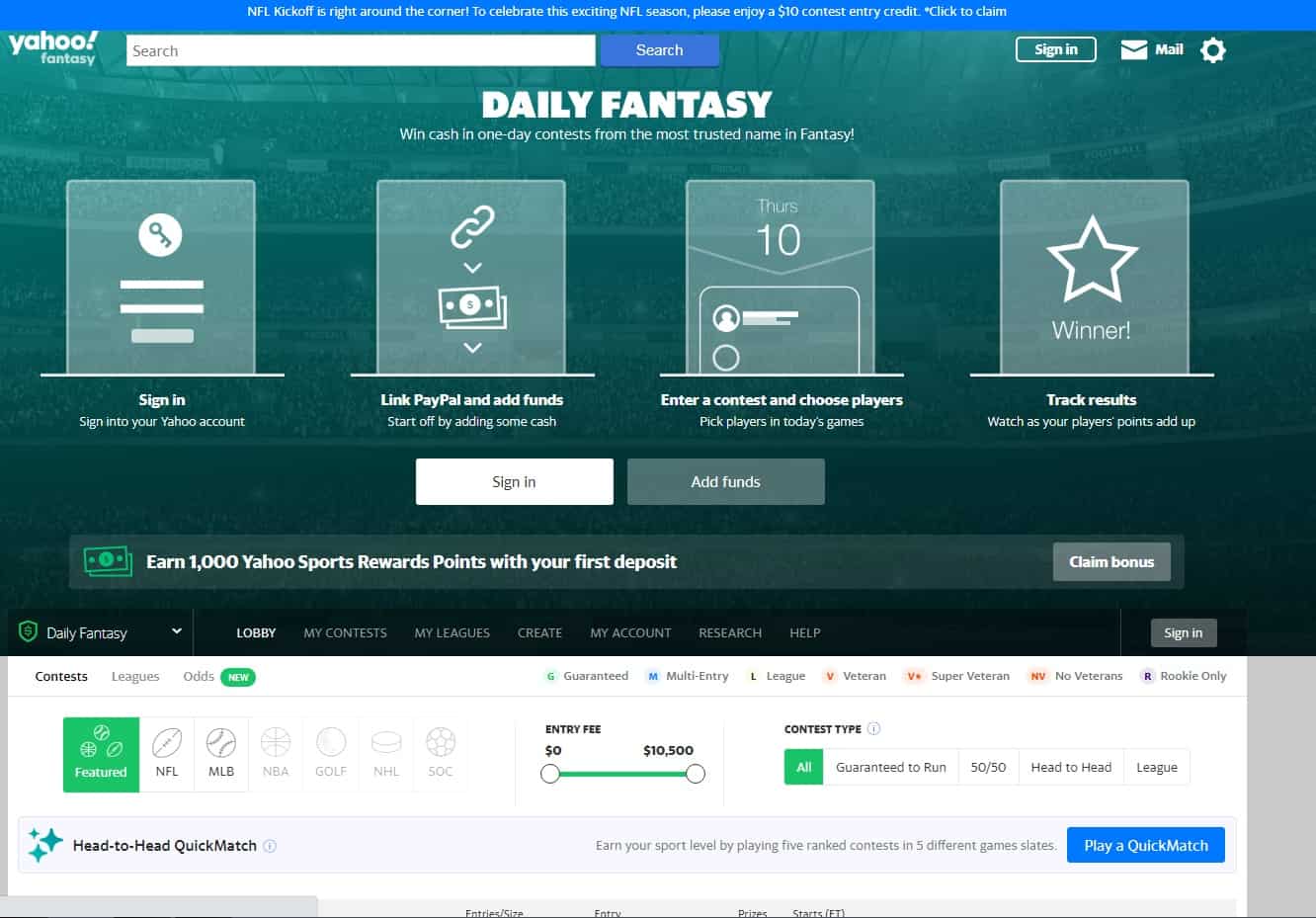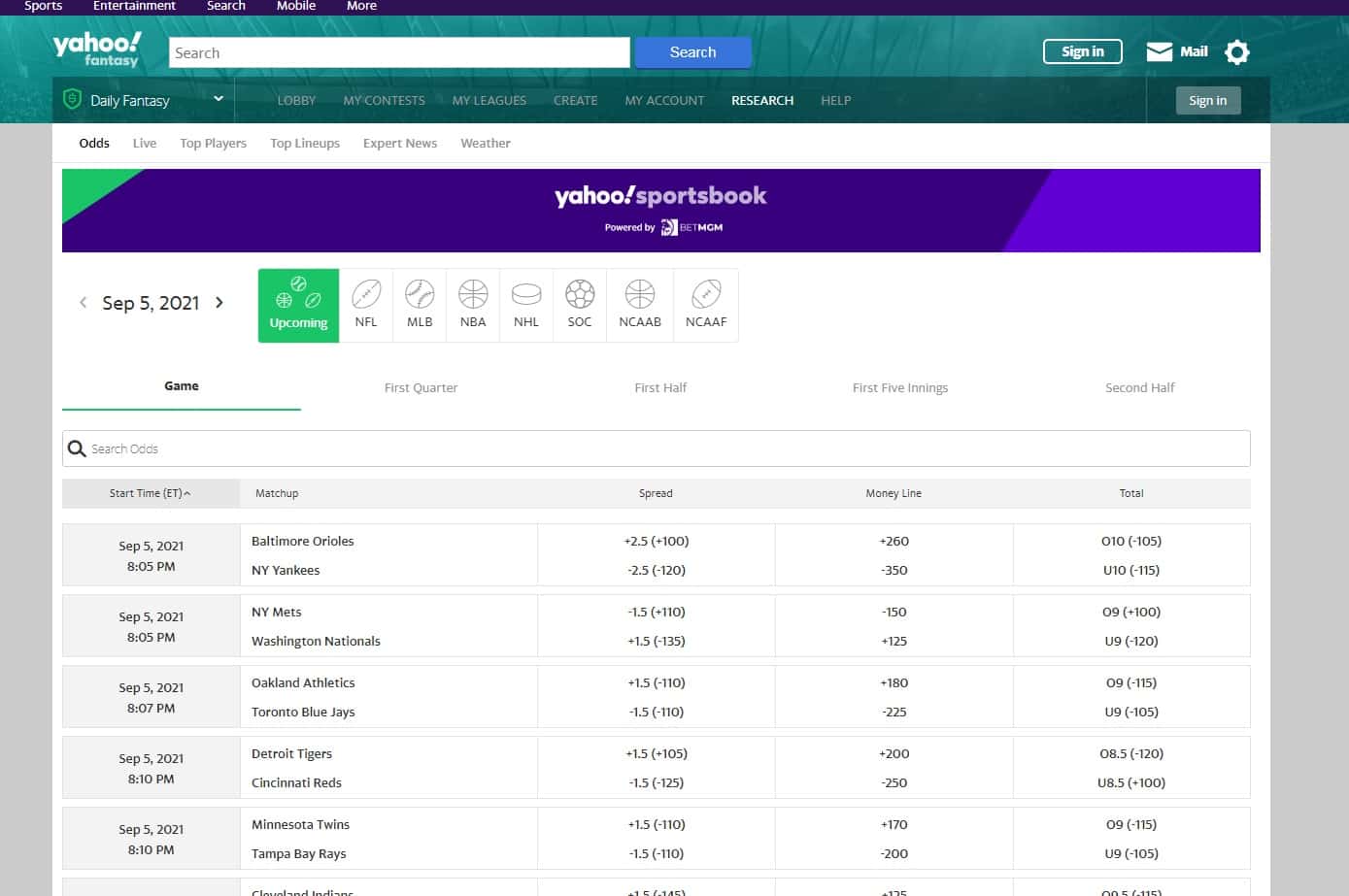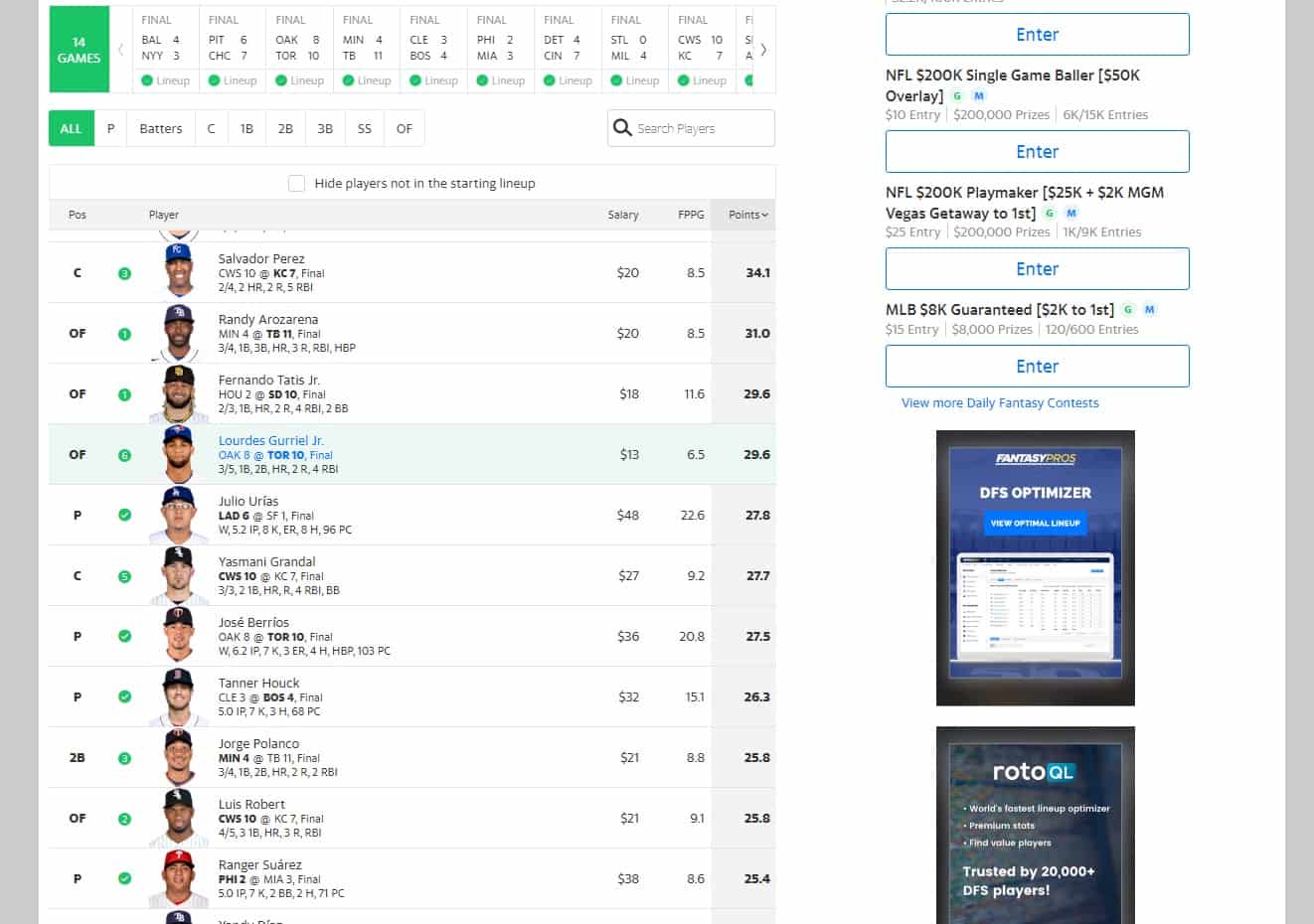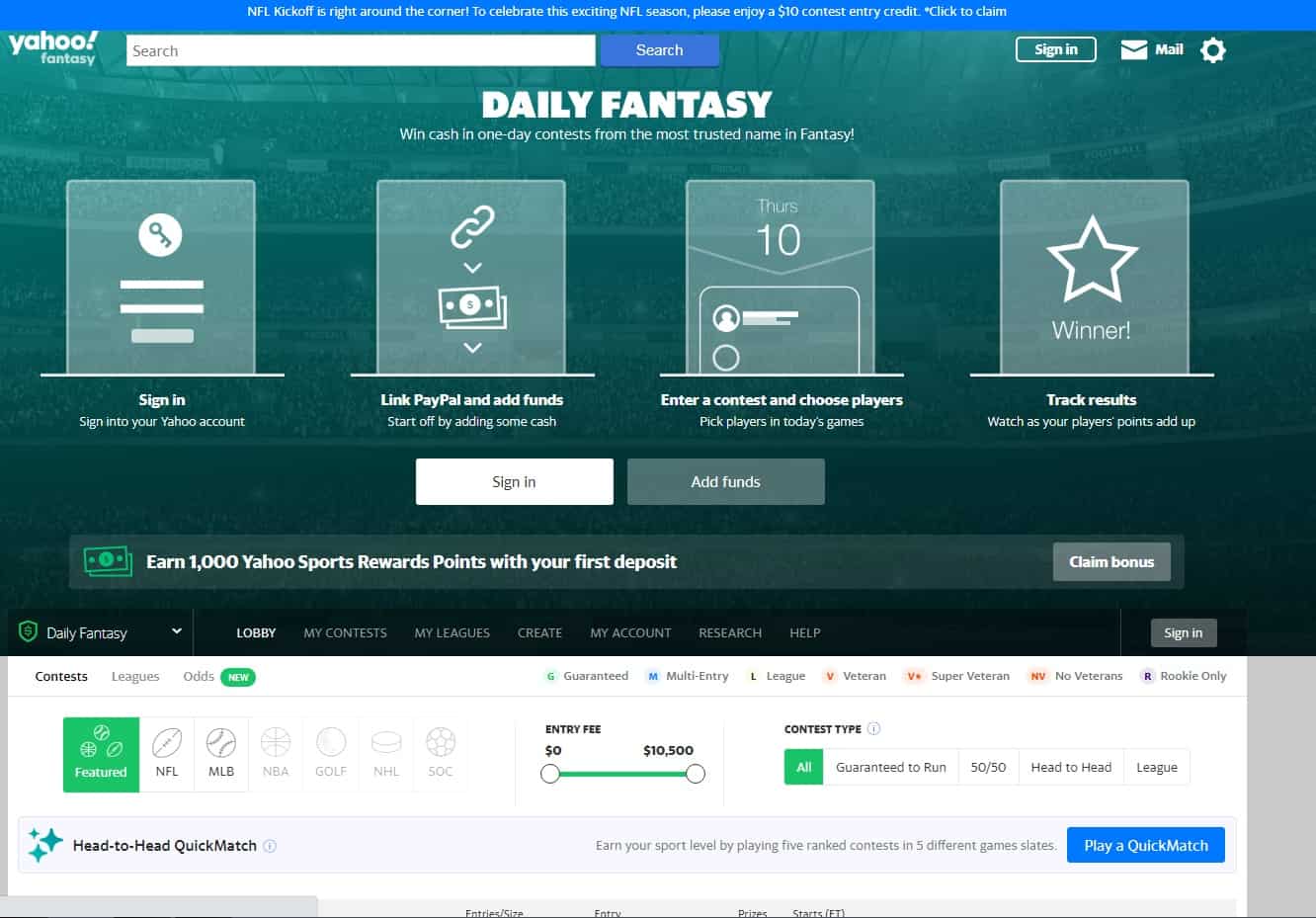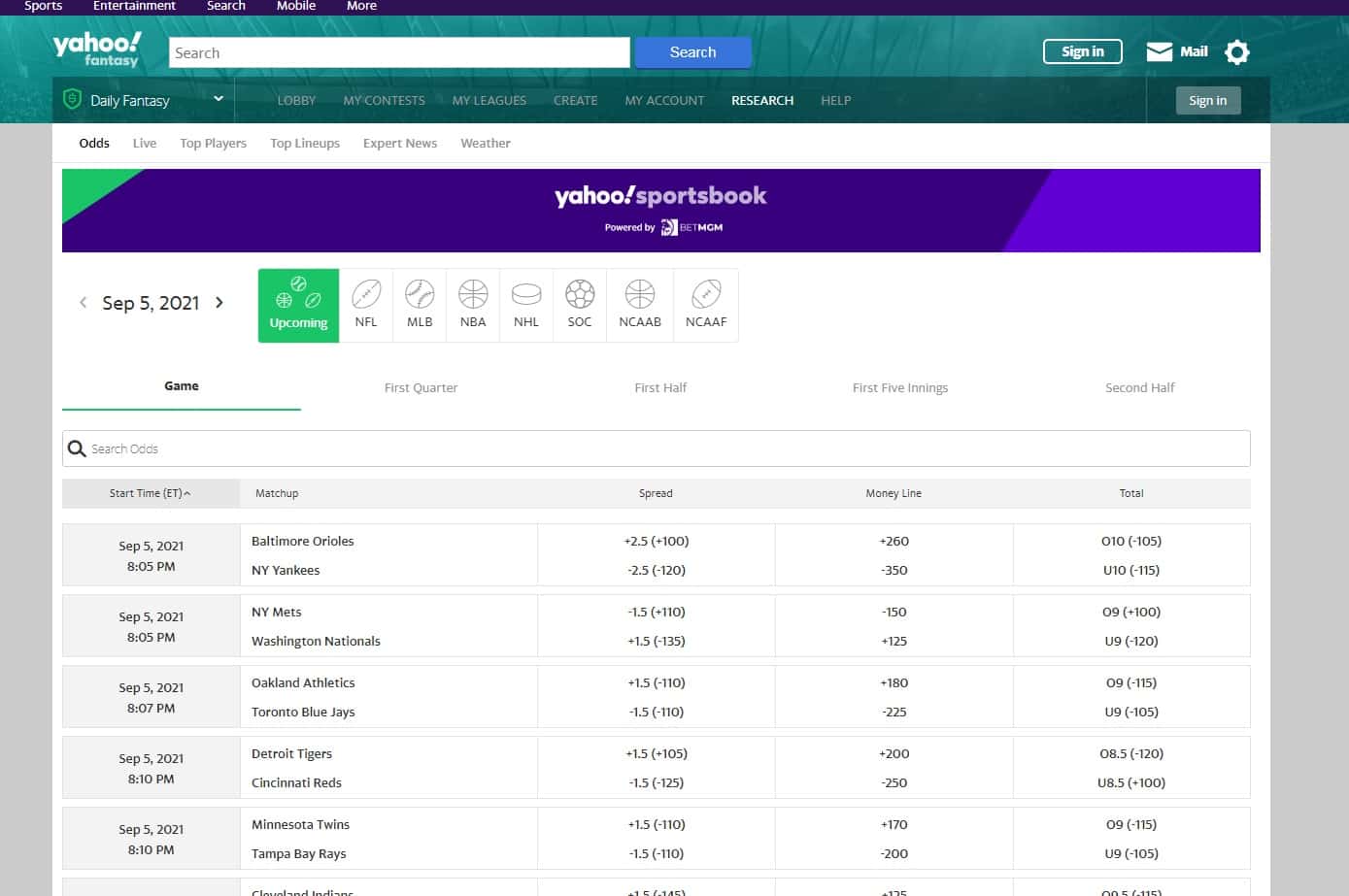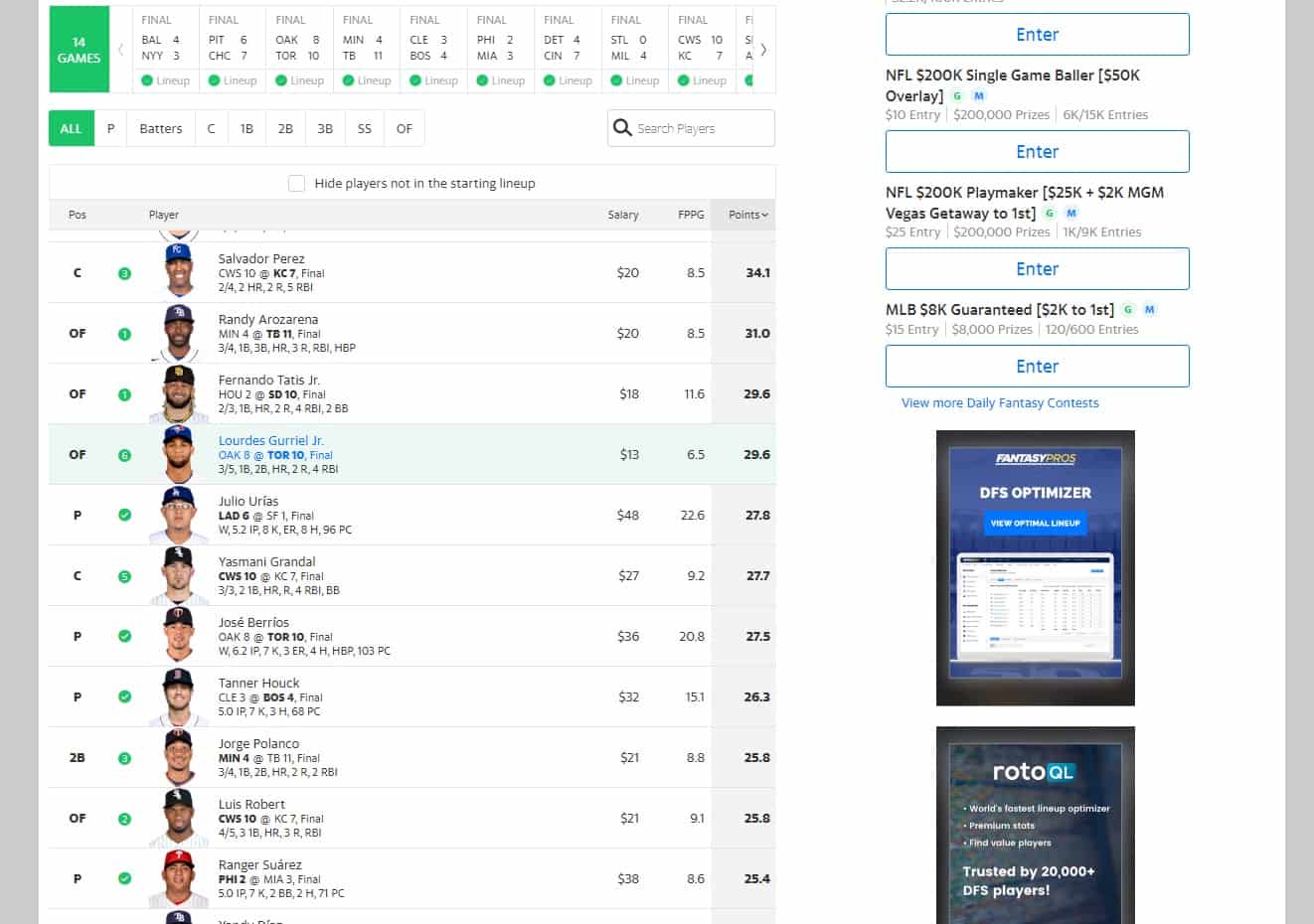 Daily Fantasy Sports is a relatively novel gambling type that is quite different from regular sports betting. Take American Football as a typical example; on most weekends throughout an NFL season, two teams of 11 players each go head to head for 60 minutes. Sports betting sites allow bettors to place wagers on markets like the eventual winner of a match, the predicted points total, or other events during the game. DFS sites, on the other hand, are more about predicting which players will create those match-defining events like scoring a touchdown or making an interception. Though not as common, Daily Fantasy Sports betting sites are growing in popularity in Colorado.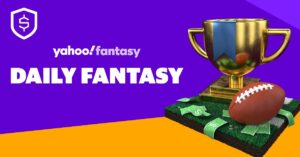 Yahoo is a hugely popular brand globally. While Google has dominated the Search engine market and relegated them to the shadows, they have remained a reputable force to reckon with. Yahoo has offered fantasy sports for more than 20 years, but season-long contests are fizzling out with Daily Fantasy Sports becoming the mainstay. Yahoo started offering DFS markets in 2015, covering the top four US sports – Hockey, Basketball, Baseball, Football as well as Golf and Soccer. Bettors must select a specific number of players in specified positions per sport to form a team. At the end of the day, the team with the highest points tally wins the contest. While the sportsbook has a few gameplay options, they do not have nearly as many as the more established DraftKings and FanDuel.
Yahoo DFS has an operating license from the Colorado Division of Professions and Occupations under the state's Department of Regulatory Agencies, allaying any illegality fears. Couple that with the pedigree of the "Yahoo" brand, and you have yourself a safe and secure fantasy gaming space. This article is a brief but detailed overview of what stands CO Yahoo DFS out and why you should give them a tryout.
How DFS Betting Works
Yahoo has transferred the simplicity of its many platforms to its DFS site. Signing up is pretty easy as a result. Since Yahoo operates the DFS site, it makes sense that you need to create one if you don't already have a Yahoo account. The sportsbook will also require the following:
Full name
Birthdate
Phone number
Once you provide these, your account is ready to go, and you can make your first deposit.
When you enter a new contest, you need to select players for your team. At Yahoo DFS, you have $200,000 to spend in choosing the set number of players to make up your team, ranging from 6 to 11 across the six sports on show. Once within the Yahoo DFS site, you can filter the displayed contents according to the sport and the entry fee you want to pay.  One of their new features is the Head-to-Head Quick Match, which gives each bettor in Colorado a rating and commensurate rank. Your rating is a marker of your performance in a particular fantasy sport on Yahoo DFS. After playing through five ranked contests in that sport, Yahoo assigns you a level. This level is what the DFS site uses to pit you against similar players in head-to-head matches. It's not much, but it helps level the playing field between new and experienced players. The five levels you can progress through are
Diamond – 900+ Rating
Platinum – 800-899
Gold – 700-799
Silver – 600-699
Bronze – 0-599
It's also vital to familiarize yourself with how Yahoo DFS scores points for the different sports. The best DFS bettors in Colorado are very familiar with what actions in a game result in the most points, and predict accurately the players they expect to make those actions. For instance, in popular fantasy football, a touchdown counts for 4 points while there is a point deduction for any fumble. Thus, the goal is to predict the player that can make the most touchdowns and least fumbles, as the case may be. Check out Yahoo DFS' site for a more detailed overview of the scoring system on other sports.
Bonus Offers and Promotions at Yahoo DFS in Colorado

New players are entitled to some reward and receive 1000 Free Yahoo Sports Rewards Points once they make a minimum deposit of $10.
As per promotions, the sportsbook hosts "Rake free contests" from time to time. When a DFS operator creates a contest, it has a prize payout and a maximum number of bettors. The difference between the entry fees paid by players and the prizes paid out is the "rake." The sportsbook is the only one in Colorado offering over $200,000 rake-free competitions.
Promotional offers are not constant, so you should check their website for current offers for Colorado bettors.
Loyalty Programs for Colorado Players at Yahoo DFS
Loyalty programs are just as named – special packages to reward bettors that continue to patronize a sportsbook over time. While there is no structured loyalty program at Yahoo DFS, Colorado bettors can accumulate Yahoo Sports Rewards Points (YSRP) for entering contests (with entry fees above $1), using a promo code, or even referring your friends. And the best part is that you can use these Yahoo Sports Rewards Points to enter into paid contests.
Players can opt-in for the referral program for free and become Yahoo DFS partners. Each player has a link that they can share with bettors they refer to and monitor their progress. The sportsbook pays a flat commission of 25% on all entry fees these bettors you refer to pay. And there is no limit to how much you can earn; the more you refer, the higher your steady cashout.
Fantasy Sports You Can Play At Yahoo DFS in CO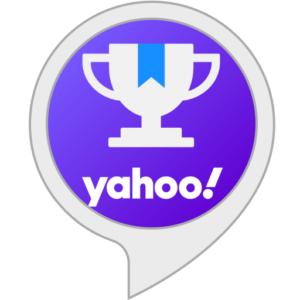 As mentioned above, the gameplay options at Yahoo DFS are limited, but unless you are looking to play in very unpopular leagues, Yahoo DFS still has you covered. All fantasy sports teams have a salary cap of $200,000 (except Soccer), and player salaries stay fixed once Yahoo has added a contest to the Contest Lobby. The fantasy sports you can play at Yahoo DFS in Colorado include:
Major League Baseball (MLB)
Your Yahoo DFS fantasy baseball team must consist of ten players. All ten must be players from at least three real-world teams, and you cannot have more than six players from the same team. The number of players per position in fantasy MLB is:
Shortstop
Catcher
Pitchers
Basemen
Outfielders
National Football League (NFL)
Each entrant in fantasy football betting at CO Yahoo DFS must select a team consists of nine players, including:
Quarter Back
Tight End
Flex player
Defense player
Running Backs
Wide Receivers
National Hockey League (NHL) As mentioned above, the salary cap on fantasy hockey draft teams is $200,000. For Colorado bettors at Yahoo DFS, teams must consist of:
Goalies
Centers
Defensemen
Wing players
National Basketball Association (NBA)
The scoring of fantasy NBA points is arguably the most straightforward. The players accrue points for scoring Points, Rebounds, Assists, Steals, Blocks, and lose points for Turnovers. Each entrant must select players in 8 positions from at least three teams.
Utility player
players in any Forward/Center position
players in a Guard position
Golf
Yahoo DFS in Colorado has fantasy markets on golf tournaments scored by individual stroke play. It is the only contest type that lasts longer than a day – about three days in all. It's also the fantasy sport with the least number of players you have to select – only 6, but the salary cap is the same – $200,000.
Soccer Fantasy games on many soccer tournaments are commonplace at Yahoo DFS. Along with Major League Soccer, the English Premier League is the most popular globally, and fantasy betting on these is available to fantasy football bettors in Colorado. There is a $/£/€200 salary cap to select eleven players:
Defenders
Midfielders
Forwards
Goalie
Utility player.
A goal counts for 8 points and an assist for 8 points amidst other events. The total points you accrue depends on the real-life performances of the players in your team.
Types of Contests You Can Play at CO Yahoo DFS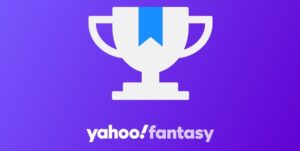 Within the "Lobby" on their website, players can filter the displayed contests between the types of Yahoo DFS has available – Guaranteed to Run, 50/50, Head to Head, and Leagues. Each contest displayed is labeled to help bettors know the specifics of each (G for Guaranteed contests, M for Multi-Entry contests, V for Veteran-only contests, R for Rookie Only contests, and L for Leagues). In little detail, the available types are:
Guaranteed to Run: Guaranteed to Run contests are just as the name implies – they will indeed hold and pay out a preset cash prize to winners of the contest independent of the total number of participants. Because of the certainty of payout, most DFS players prefer to participate in these tournaments, especially those with low entry fees.
50/50: 50/50 contests pay out winnings to one in every two players in a pool of many players. As long as the player ranks in the top half, he or she gets a reward.
Head to Head: Head-to-head tournaments pit players against each other. The Head-to-Head Quick Match feature gives Yahoo DFS a fair idea of each CO bettor's prowess and ensures that they match you with someone closer to your level of ability. This system ensures fair play, and the winner of the match-up wins the prize.
Leagues: A league is a group of two or more contests. You can choose to enter any of the available leagues or create yours with your friends. The options range from those with cheap to expensive entry fees, and player sizes and payouts will also differ.
CO Yahoo DFS Software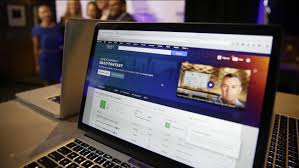 The Yahoo DFS is integrated with the Yahoo website itself. It has a simple design that is easily navigable. One advantage the DFS sportsbook has for Colorado bettors is the list of research tools available to aid your betting strategy. The latest team news and expert analysis are all accessible from the "Research" section on the DFS site. The sportsbook also has mobile apps available for iOS and Android devices, and they have virtually all the features the website has, making it possible to chop and change your teams at a moment's notice.
CO Yahoo DFS Deposits and Withdrawals
One of the few cons Yahoo DFS in Colorado has is its over-reliance on PayPal. To get started in the first place, CO bettors must link a Paypal account to their Yahoo DFS profile, and it is the only means for making deposits or withdrawals. Yahoo DFS does not accept Credit Cards for deposits or withdrawals.
Customer Service Support Available at Yahoo DFS in Colorado
This is one area where Yahoo DFS excels as bettors in Colorado are spoilt for choice. They can easily access detailed explanations of each fantasy sports betting type on offer from the Help section at the bottom of the site. And the most common questions Colorado bettors have are succinctly addressed in their FAQ section. Their customer service lines are open between 6 AM to 6 PM on Mondays through Fridays every week, and an Email service accessible 24/7. Plenty of options to choose from!
Conclusion
We have covered all the critical aspects of DFS betting at Yahoo DFS in Colorado. Although there is a lot of room for improvement, it's hard to claim that Yahoo DFS has reached its ceiling. Yahoo is putting lots of work into carving this DFS service out of their existing fantasy sports franchise, and with all the recent features added, it will only get better.
We hope that information from this article was helpful but, if you still have any doubts, do not hesitate to check other reviews that we prepared for you. There are a lot of options on the sportsbooks market in the US (Colorado), and you can be sure that we choose only the best ones for you:
FAQs
Is Yahoo DFS legal in Colorado?

Yes, it is.
How to choose the contest on Yahoo DFS in Colorado?

Within the "The Lobby" section of their website, Yahoo DFS lists all the available contests, and you can make your choice from there.
Is there an Android app for the Yahoo DFS site?

Yes, there is.
Can I bet on Yahoo DFS if I am 18 in Colorado?

es, you can.
Written by: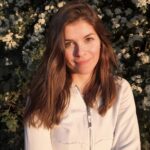 Aria works hard to make sure that residents from different states have access to honest reviews and credible information about the best legal gambling sites. She has a rich experience as a writer, SEO specialist and expert in sports betting. Sports Editor at Luckycolorado.com.
Best DFS Betting Options and Online Sportsbooks to Bet!