FantasyDraft DFS Betting Review & Promo Code
Published: Nov 9, 2020
Updated: Oct 29, 2021
Screenshots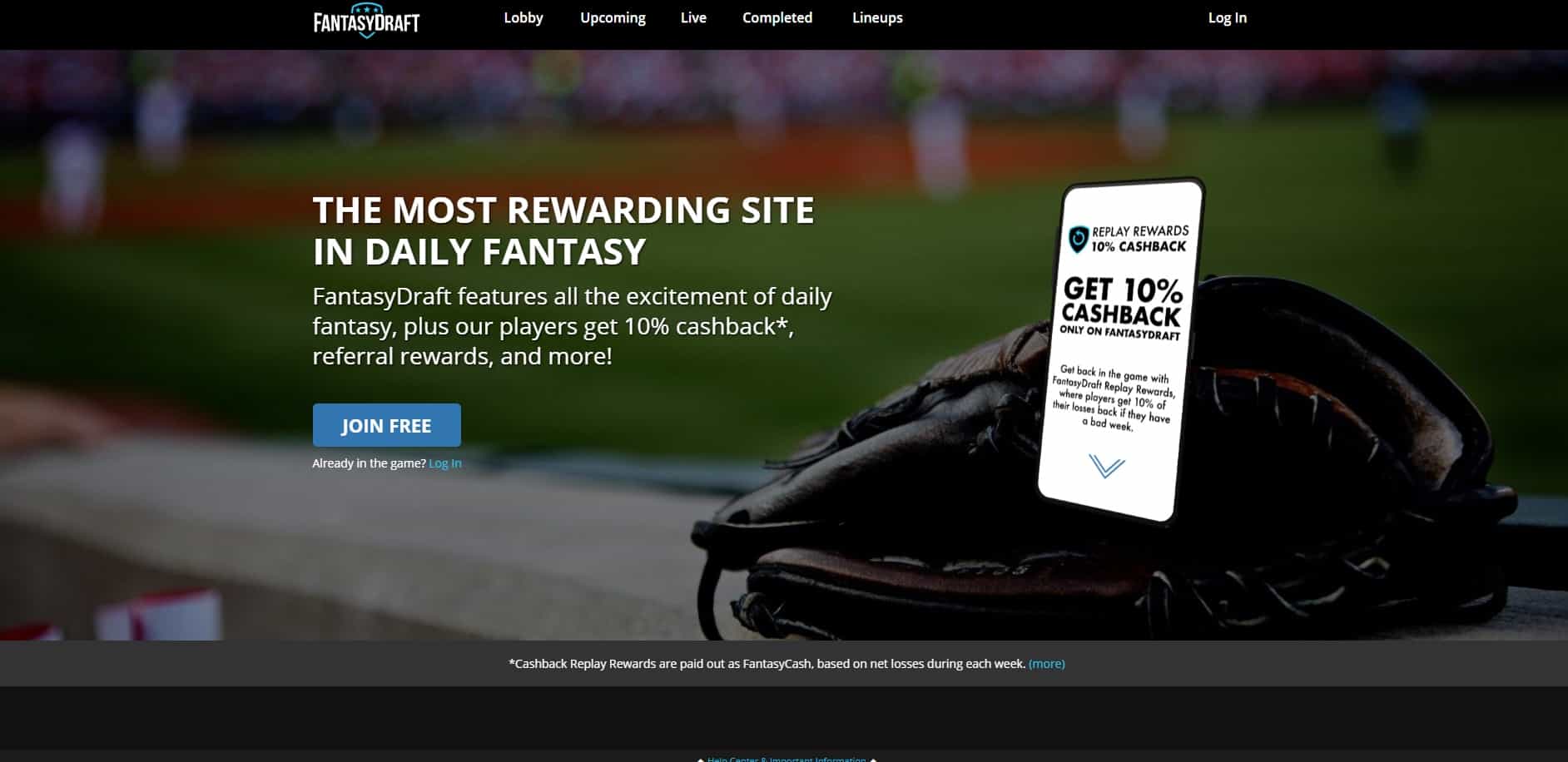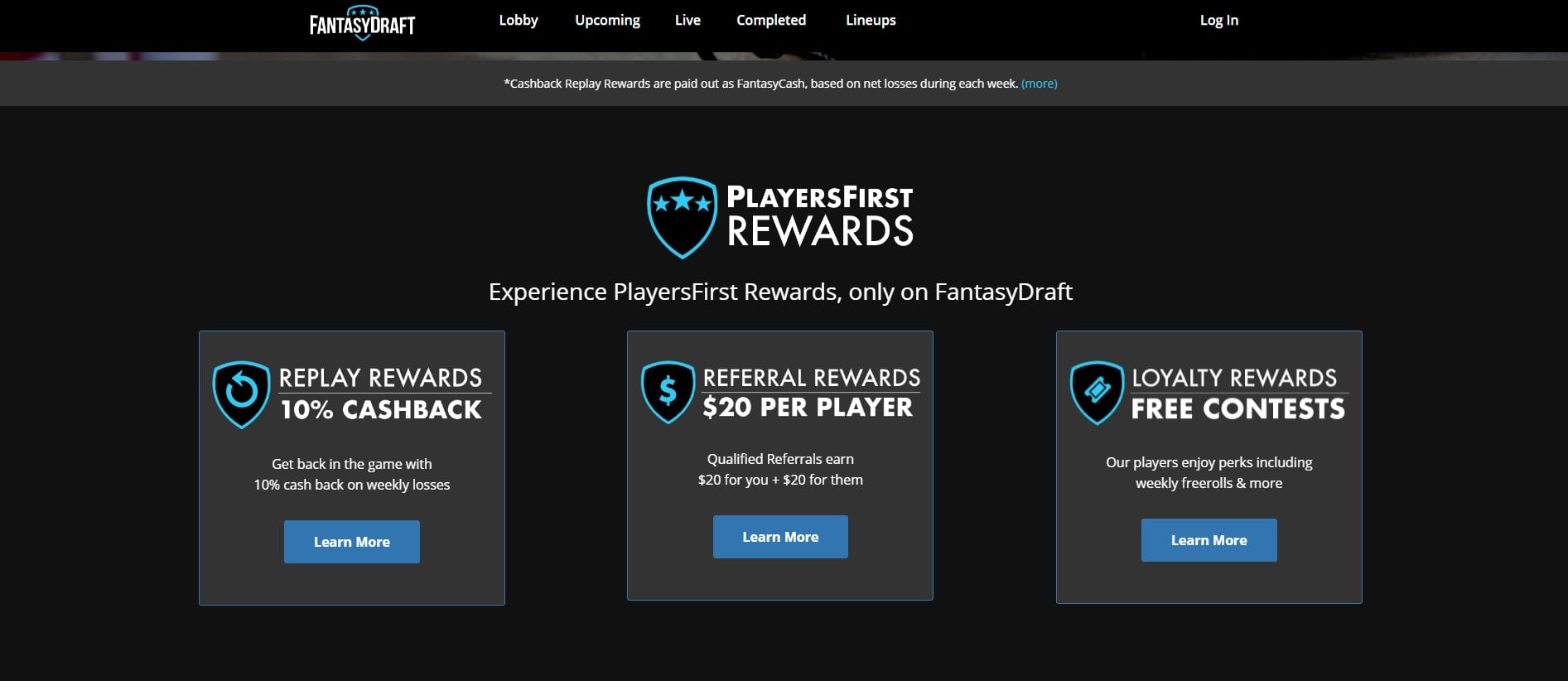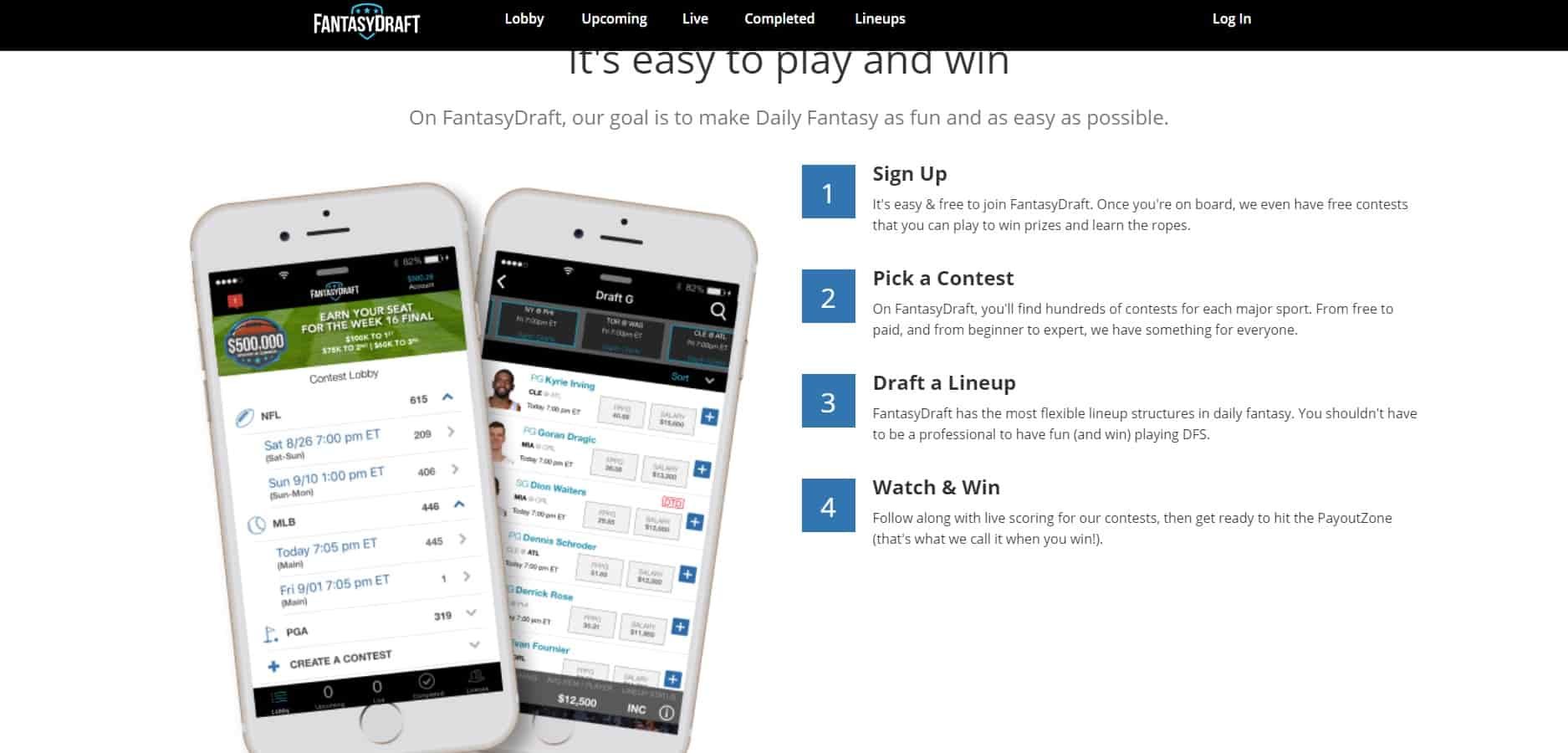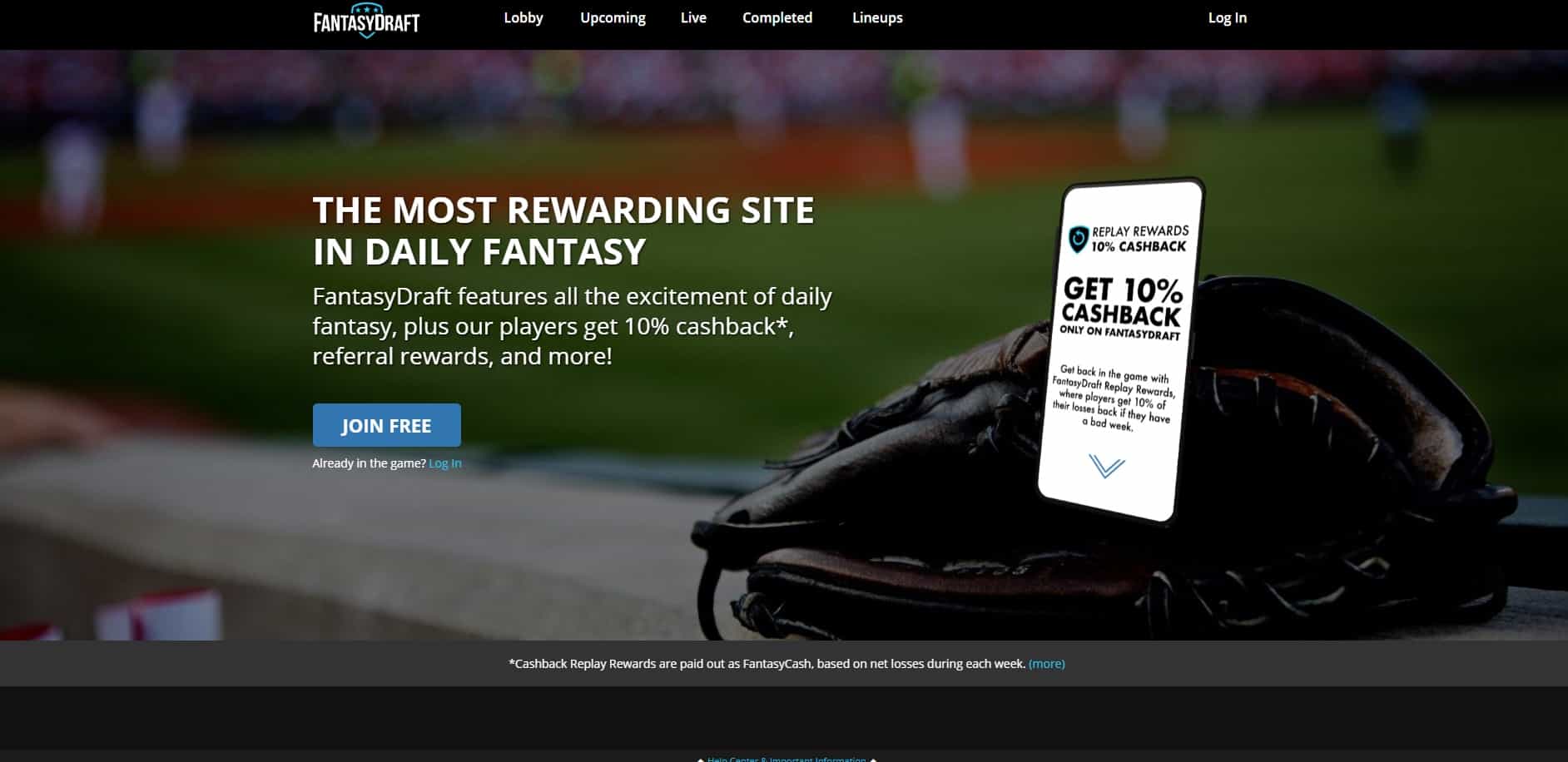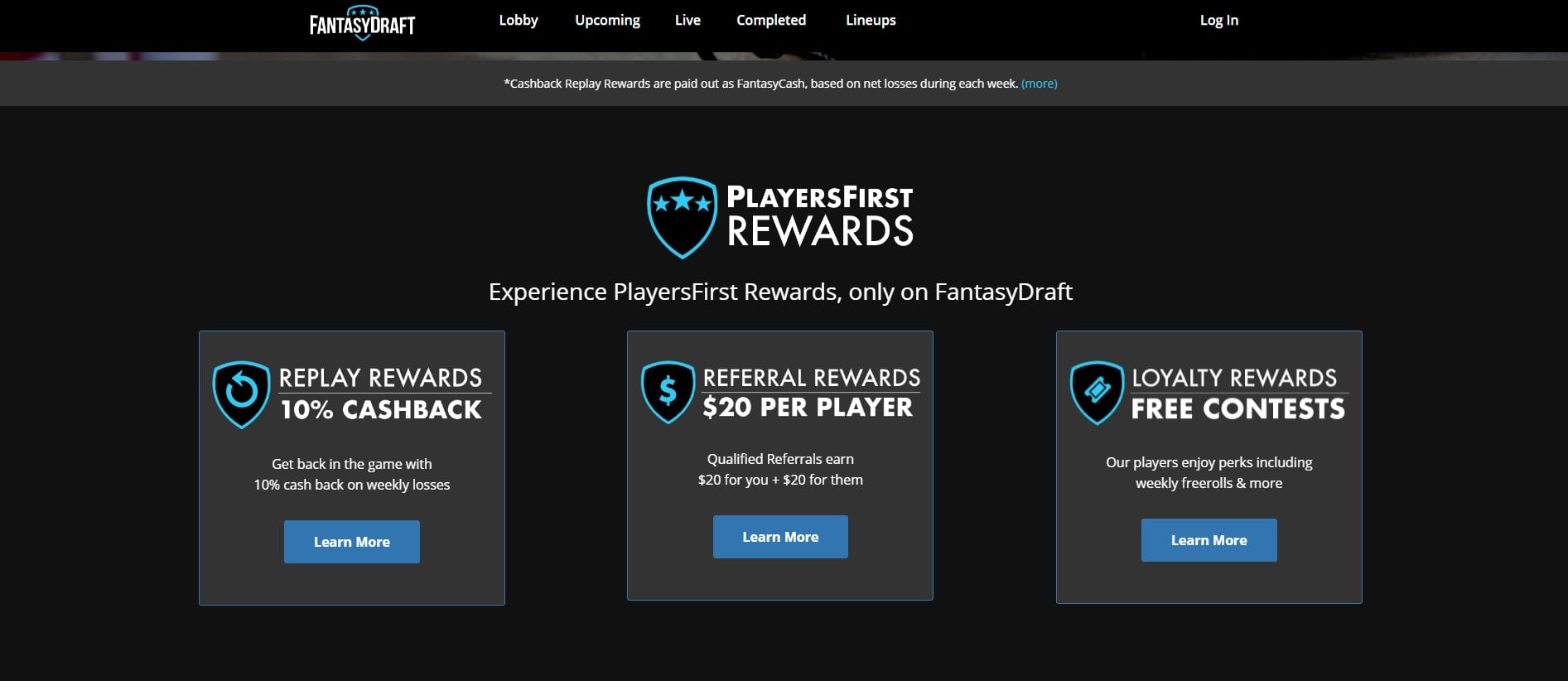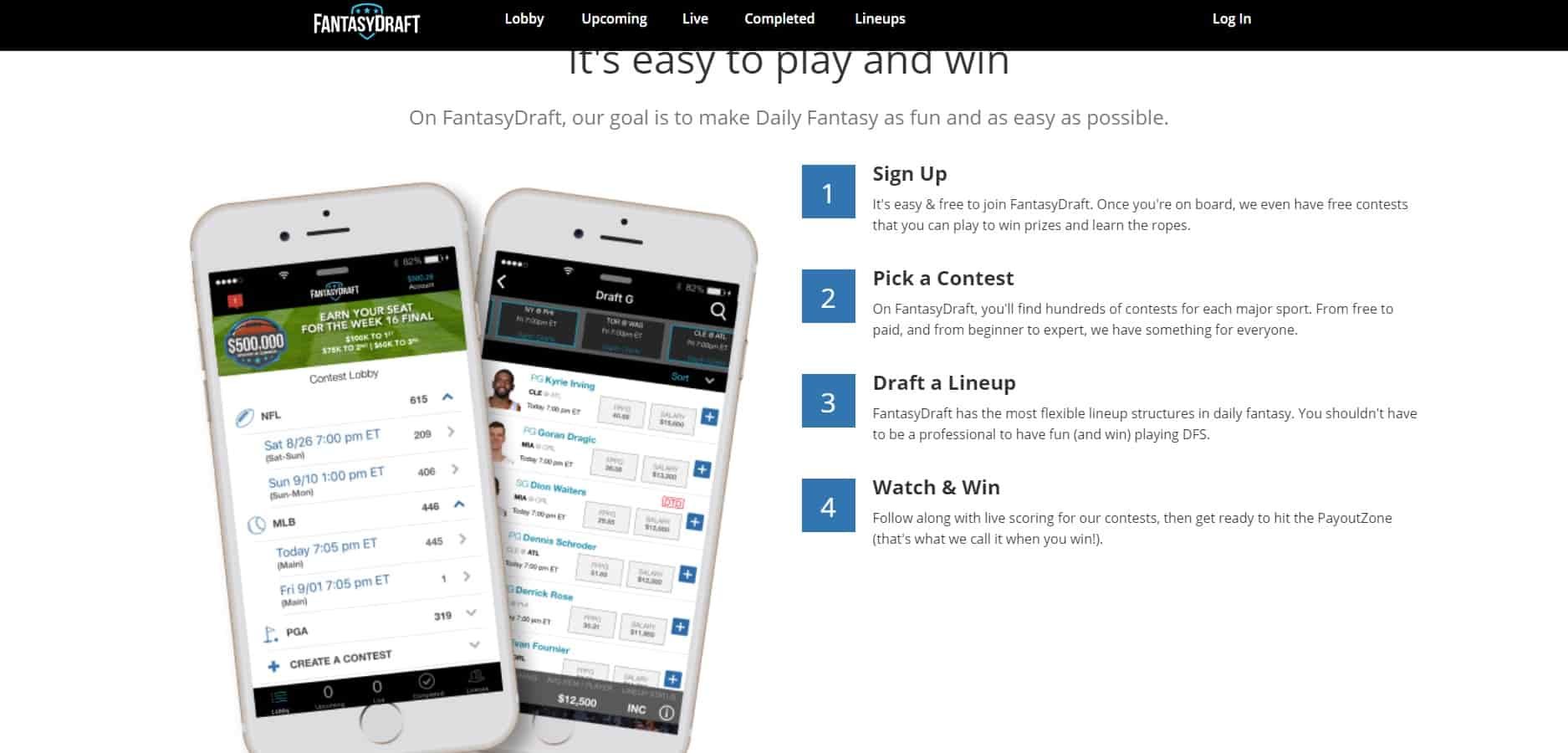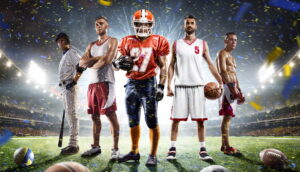 Daily Fantasy Sports is one form of gambling that has divided opinions over the years, even in Colorado. Many consider it gambling, but the legal backlash that casino gambling and sports wagering providers have faced is far beyond that of DFS providers.  Daily Fantasy Sports are a type of fantasy game where players select a team of players of a particular sport and compete against others. The chosen players accrue points based on their actual performances in real life, and the gamer who has the highest total points from players selected wins. The DFS contents are structured to hold over a shorter period and have larger winning pots than regular fantasy games. Despite the structure of the DFS, many still consider it a form of gambling.
DFS contests have been around in the US for over ten years, with many states just ignoring the activities of DFS franchises. However, since the repeal of the Professional and Amateur Sports Protection Act (PAPSA) in 2018, which granted each state the ability to set up their independent wagering laws, Colorado is one that has put a legal structure in place to guide the activities of providers. The Colorado Division of Professions and Occupations in the Department of Regulatory Agencies is responsible for conducting the local DFS industry's activities and setting licensing and renewal fees. And although DraftKings and FanDuel are miles ahead of all competitors, FantasyDraft is still a prominent figure in the state.
How to Play on DFS Sites in Colorado?
As with all DFS sites, the first step is playing your favorite fantasy sport is to register, and it is straightforward. At the bottom of their landing page, click on the "Join Free" button. A form pops up that requires you to provide a preferred Username and Password, an active email address, and the State's name from where you will be playing. You can apply a promo code if you have any, and your account is ready to go. Once you make your first deposit, the fun begins.
There is a Lobby Section and a Live and Upcoming Events section at the top of the website. Players can easily navigate between this to see available contests that they can participate in. The most crucial step is to draft your team. Usually, there is a cap on the amount of money you can spend on a specific number of players in particular positions. Prices per player will vary depending on their potential points return, and the number of players you have to select will also differ depending on the sport.
The scoring method is another critical element to the game that players must master to thrive at the provider they choose to play on. Each DFS provider has its uniqueness for scoring points for a particular sport, although they mostly tend to be alike. The scoring method for a specific sport tends to tally with its unique gameplay. For example, on FantasyDraft Fantasy Football, each player that rushes for 100 or more yards earns 3 points while there is a point deduction for each interception. For FantasyDraft Fantasy Baseball, the ten men in your team can each earn 2 points for every run they score and lose 2 points each time they are caught stealing.
FantasyDraft CO Bonus and Promotional Offers
Welcome Bonus

FantasyDraft does not have any official promo code but offers a unique welcome bonus for new players in Colorado. When a new player deposits at least $10, FantasyDraft offers 4 percent cash back, up to $200 on your contest entry fees for the first 90 days. This bonus is a bit different from the standard bonus offers at the big boys – DraftKings and FanDuel but is one of the best when analyzed well.
Promotions
A huge point of reference for CO FantasyDraft bettors is "Rake free contests." Rake refers to the part of your entry fee dollars that DFS sites keep as theirs, which do not contribute to the winning pool. Because all the money pooled goes to the contest winners, gamers feel encouraged to put their money in for maximum profit.
Replay Rewards also encourage players to continue playing, even when they make losses. You earn 10 percent of your weekly net losses back in Fantasy Cash that you can use to continue playing. All registered players are eligible for Cashback rewards at the end of the week.
Fantasy Draft's popular referral scheme is an attractive offer that keeps CO bettors on their toes to get their friends playing, and it is easy to earn this reward. You can share your referral link with your friends from your Referrals Page. Once your referred player becomes qualified, both of you earn $20 in Fantasy Cash. The player you refer becomes qualified when they sign up from your link, make the first deposit, and pay entry fees of $20 or more in contests within 30 days of joining. The promo offer is available to all registered users.
Loyalty Programs at CO FantasyDraft
This Colorado online sportsbook for DFS Bets does not have a designated loyalty scheme for existing players. However, loyal players receive occasional freebies like weekly freerolls & free ticket giveaways through Loyalty Rewards.
Fantasy Sports You Can Play at FantasyDraft in Colorado
While FantasyDraft has a limited pool of gaming options compared to the top CO DFS Betting Sites, the available options still provide a fascinating betting experience. The online DFS sportsbook currently allows Colorado bettors to play fantasy betting on the following competitions:
National Football League (NFL): Football is quite popular in Colorado, and Denver is home to one of their major football teams – Denver Broncos. FantasyDraft does not offer fantasy betting on NCAA football for now, just on the NFL. Your fantasy team consists of nine players, one Quarter Back, two Running Backs, two Wide Receivers (compared to three at most others), one Tight End, Two Flex Players (instead of one), and One Defense player. The players have fake salaries set by the game, corresponding to their ability level, and there is a salary cap of $100,000 to spend on these nine positions.
Major League Baseball (MLB): FantasyDraft's baseball contests also run for a single day, which means you must select players from the teams playing on that given day, and from at least three teams. There is a salary cap of $100,000 as well. There are ten positions to fill with players – two Pitchers, three Infielders, three Outfielders, and two Utility players. The baseball scoring system is probably the simplest of the five.
National Basketball Association (NBA): With almost all the games they offer, FantasyDraft tends to give Colorado players more leeway with selections, not being very strict about specific positions. The same applies to Fantasy basketball betting. There is a salary cap of $100,000 to pick players in 8 positions from at least three teams. Three players in any Forward/Center position, three players in a Guard position, and two Flex players.
Golf: FantasyDraft allows fantasy betting on PGA championships. It is one fantasy contest that most competitors do not really offer as they tend to span more than a day. You have a $100,000 salary cap to select seven PGA players, and your top six players on the leaderboard will be added together for your overall points. The golfers accrue fantasy points Per Hole, for their Tournament Finish and for Streaks and Bonuses.
National Hockey League (NHL): The salary cap is the same for fantasy hockey contests at FantasyDraft in Colorado. You have $100,000 to select players in eight positions from at least three teams. Your team must consist of two Centers, three Wing players, one Defenseman, one Utility player, and one Goalie.
Available Contests at CO FantasyDraft
FantasyDraft offers most of the contest types seen at the top online sportsbooks for Daily Fantasy Sports betting in Colorado. They include:
GPP: GPP stands for Guaranteed Prize Pool. These contests will continue and pay out a predetermined winners prize irrespective of the number of participants. They are the most popular at most DFS providers, and a couple have very low and affordable entry fees. If you notice that there are still free slots when the contest is about to start, you can create an extra team to increase your chance of winning.
50/50: This contest is just like the name suggests. Beat at least half of all the players, and you win. The total prize is shared among the top half.
Beginner: Fantasy Draft structured it's beginner contests to allow new players to test themselves against fellow rookies and get the hang of the game before competing with the more experienced players. If you have not played in up to 50 contests, you qualify for the beginner contests.
H2H: As the name implies, this is one player going against another. It's a very good competition to play with friends, for clout and bragging rights. And it's simple, best your opponent and the prize is yours.
Tournaments: There are so many types of tournaments. A common theme nowadays is that there are several qualifier contests before the final, which boasts a mega cashout. You can win your way into the main contest or pay to participate. It is essential to check each tournament's details to understand what you have to do fully.
Leagues: Leagues include all kinds of contests with entry fees ranging from small to massive, different sizes, and payouts. It is open to all players, and FantasyDraft also pays out deeper than other Colorado DFS sites, so you stand a higher chance of winning.
CO FantasyDraft Software
The FantasyDraft online platform runs on all major web browsers and is also optimized for mobile devices. The layout is simple, and even new players can easily find their way around the contest and other sections.
There is an app for iOS devices via the apple store but no Android app at the moment. Across all platforms, the site is easy to use.
Deposit and Withdrawal Options on FantasyDraft in Colorado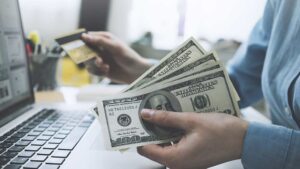 Like most DFS competitors, FantasyDraft has a limited number of deposit and withdrawal options for Colorado players. Though they are limited, the available options work very efficiently. Players can make purchases via Credit cards or PayPal. The minimum deposit amount is $10, while the maximum amount is $2,000. Players that want to deposit significantly high amounts can contact customer support. On the other hand, withdrawals are via Paypal or eCheck. For Paypal, withdrawal time is 2 to 3 days and 7 to 10 days for eCheck.
Customer Support Options at CO FantasyDraft
There is a "Help" section at the bottom of the website with links to some of their useful resources. There is a FAQ section that answers most burning questions and explanatory videos that take you through the process of drafting your team, selecting a tournament, and potentially winning. There is no direct e-mail address or phone number listed, so if you must contact their support, you can fill out the form and send them a message, and someone from their team will reach out to you.
Conclusion
FantasyDraft was always going to have to play catch-up to DraftKings and FanDuel, but where most other CO sites have failed to stay consistent on the market, the DFS betting site has passed that test. With its unique and exciting features, it will only get bigger and better. Sign up now at FantasyDraft and start winning.
We hope that information from this article was helpful but, if you still have any doubts, do not hesitate to check other reviews that we prepared for you. There are a lot of options on the sportsbooks market in the US (Colorado), and you can be sure that we choose only the best ones for you: 
FAQs
Is FantasyDraft legal in Colorado?

Yes, it is.
Should I pay fees during registration on FantasyDraft in CO?

No, you shouldn't.
Is there an app for the FantasyDraft site?

There is an app for iOS devices but no android app yet.
What is the best strategy to bet on FantasyDraft?

It depends on your style. Just be sure to check each contest's terms to ensure you are playing correctly.
Can I win real money on FantasyDraft?

A: Yes, you can.
Written by: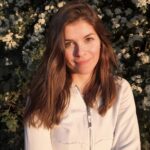 Aria works hard to make sure that residents from different states have access to honest reviews and credible information about the best legal gambling sites. She has a rich experience as a writer, SEO specialist and expert in sports betting. Sports Editor at Luckycolorado.com.
Best DFS Betting Options and Online Sportsbooks to Bet!