Twinspires Is the Best for Real Money Sports Betting in Colorado
Published: Nov 13, 2020
Updated: Jan 4, 2022
$200
Screenshots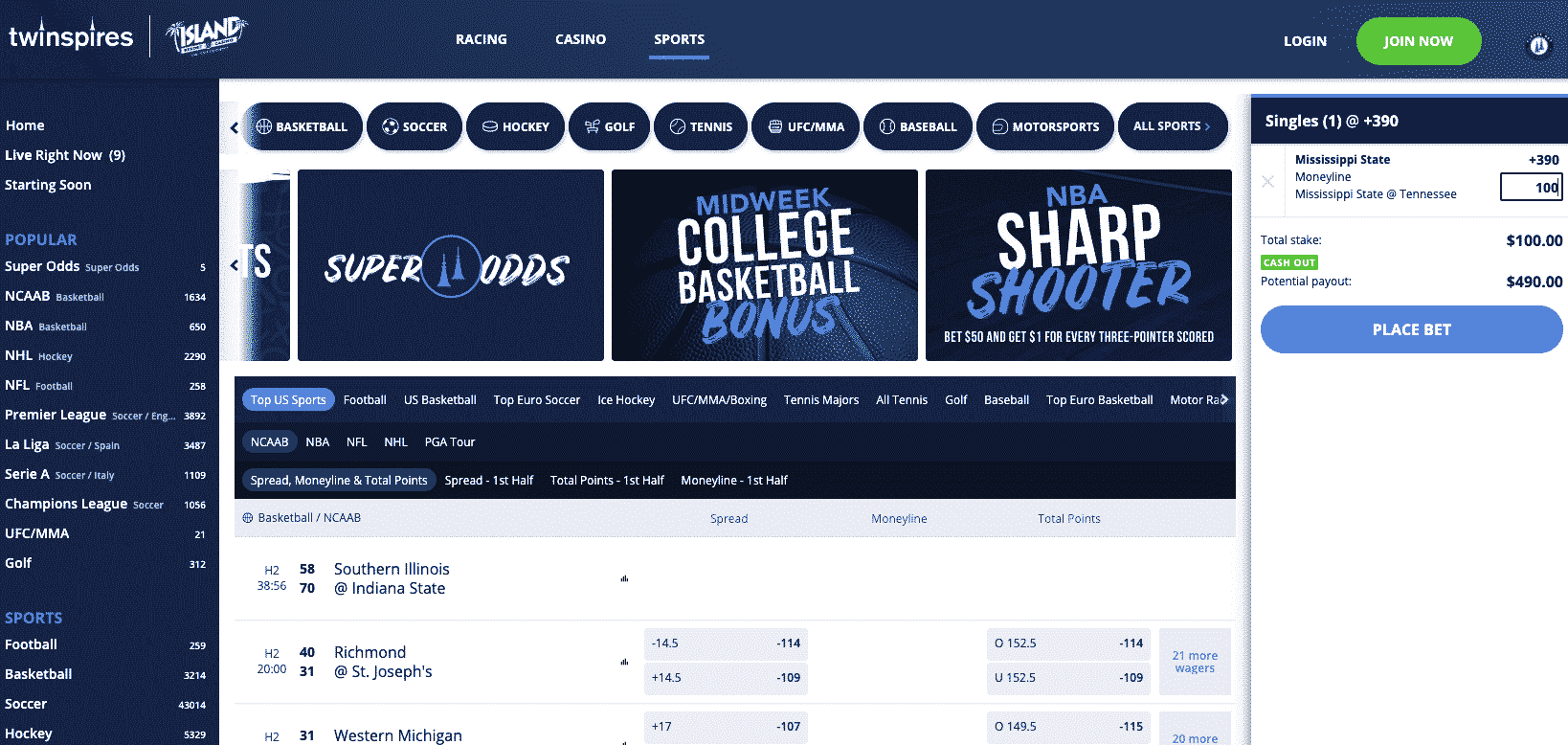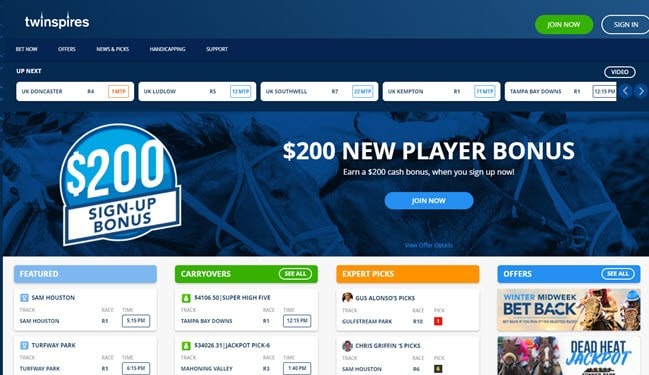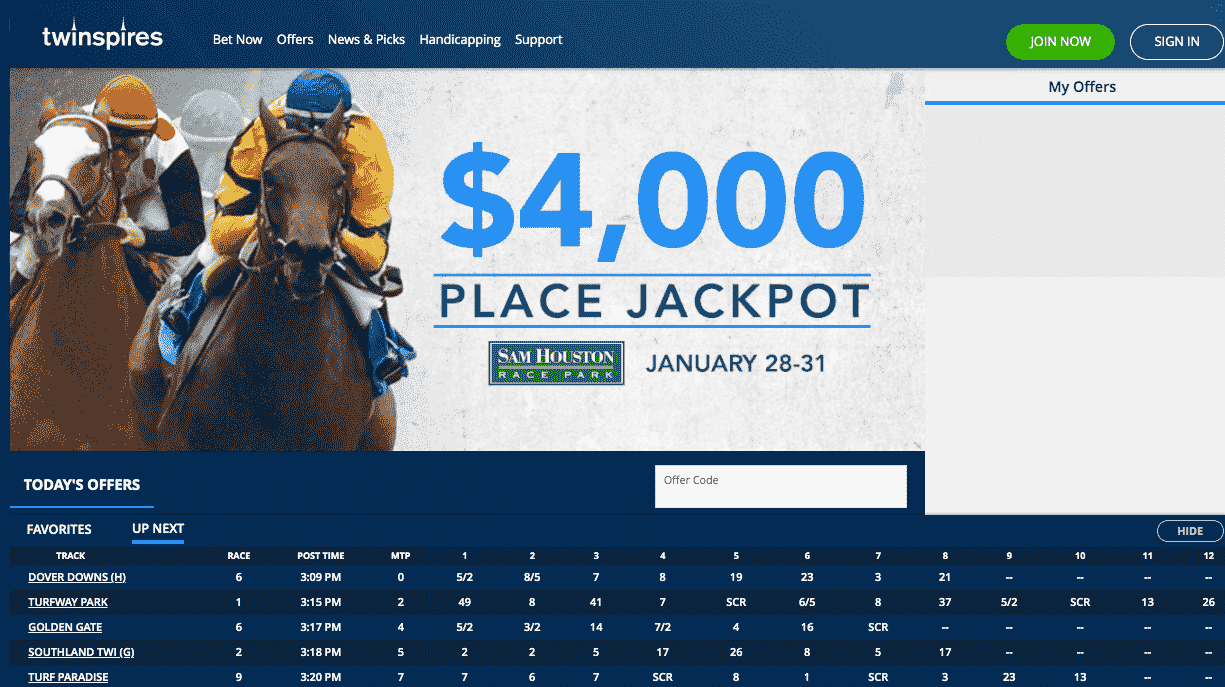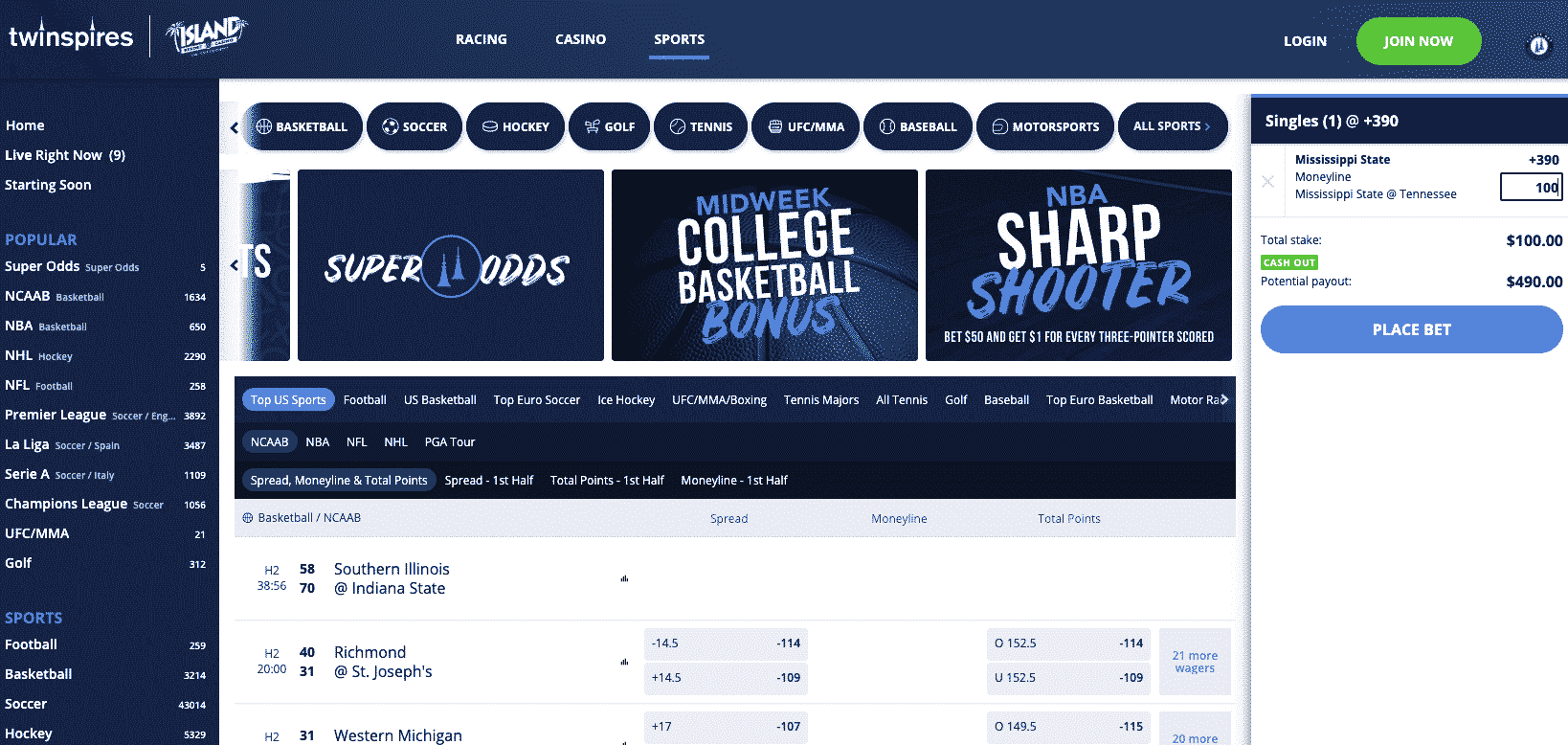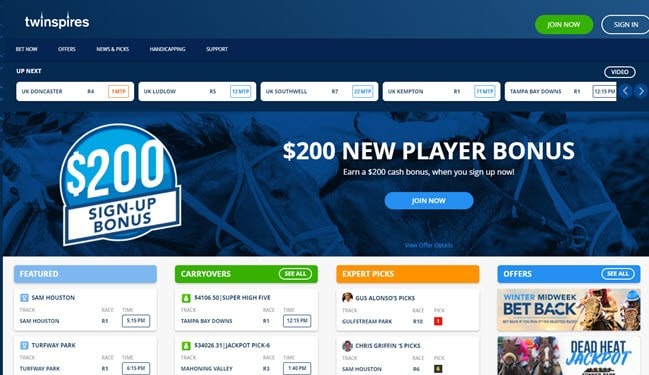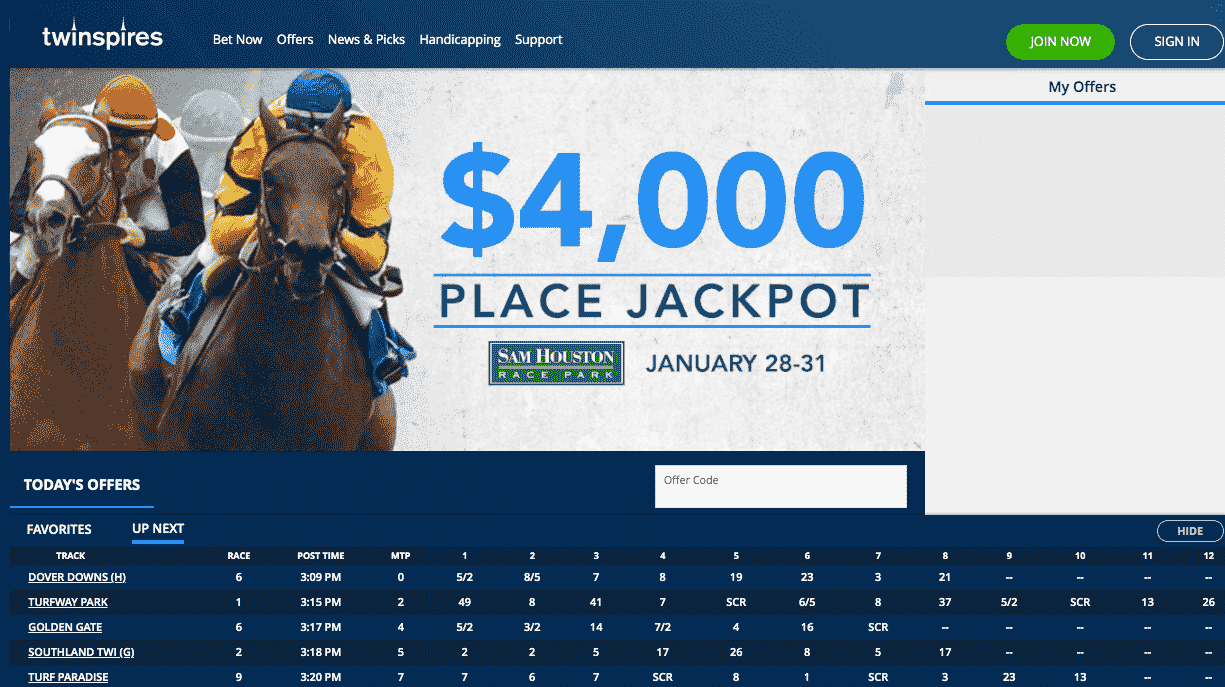 Twinspires is a US racebook and subsidiary company of Church Downs Technology Initiative. It was established in 2007 to provide wagering services from over 300 renowned racetracks all over the world that offer harness, thoroughbred, greyhound, and quarter horse races. The mobile racebook operator is popular among sports gamblers because of the numerous benefits like; no pre-wager charges, bonuses, rewards, mobile platforms, free live-streamed videos, game replays, and detailed betting information. Twinspires race betting in Colorado is equipped with top-notch security, numerous banking platforms, secured customer funds, and several betting types. These features are for players' ease and convenience. The site is licensed by Oregon's state to offer horse wagering services to more than thirty states in America, including Colorado.
Twinspires Promotional Offers and Bonuses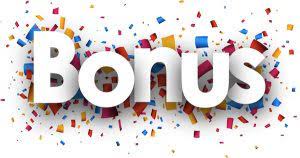 Like most racebooks, Twinspires have several offers for old and new clients to keep them motivated and to hold their patronage. The most popular Colorado Twinspires bonus is the welcome bonus offer of $200, which may be claimed using the Twinspires promo code: BET200. You are liable to claim the offer after creating an account on the Twinspires site, and $100 is paid twice on every $400 wager within the first month of signing up. The site provides some promotional game offers where old bettors can win free plays like; the first race Freeplay, Monday trifecta, Sunday special, two for Tuesday, and the Preakness weekend leaderboard. Players can play any of these games with up to a $1,000 free bet. Twinspires Promo codes may change from time to time.
The site offers referral bonuses for old players who bring in new ones; both parties win up to $10 each. New bettors are required to join with the friend's referral code to claim these bonuses.
The site is currently offering a series of promotional deals attracting huge Twinspires rewards. There are some cashback deals to refund players in losses like the Santa Anita bet back, weekend exacta insurance, and the Hoosier park gate insurance. In the Santa Anita bet, players are liable to a refund if their horses come in second or third place in the race. Weekend exacta insurance is when you wager on two horses, and both of them finish among the top three but not in the exact betting order. Here, bettors will be refunded up to $10 per race—the Hoosier park gate insurance refunds wagers when the horse breaks stride at any point during the game.
Twinspires offer called every Thursday at Hoosier is when players get to wager for their place payoff share of $1,500. Where players are unable to claim it, it is carried on to next week.
Rewards for Loyalty and Special Deals
Bettors win Elite points on each dollar wagered on most racetracks, and up to four points per dollar wagered on Miami valley, Churchill, Arlington, and Fairground racetracks. The oldest points are claimed first, and each point has 12 months for players to claim it, after which it expires. These points are redeemed as wagering credits. Twinspires VIP is a loyalty program where players can earn substantial Twinspires rewards for their relentless patronage. There are different levels in the club, namely; bronze, silver, gold, and platinum.

Bronze VIP has a $25,000 yearly wager requirement, with benefits like monthly bonuses, and bronze-level benefits Twinspires Elite unique spots. The silver level has a $50,000 requirement annual wager with numerous benefits like a free invite to elite racetracks, free daily program, monthly bonuses, and silver-level benefits at Twinspires select unique spots. The gold level has a $100,000 yearly wager requirement with all the benefits of the previous two levels, and new ones such as; access to VIP gold rooms, invites to VIP occasions, and gold-level services at Twinspires elite unique spots. The platinum level is mainly by invitation, but a yearly total bet of $250,000 is advised. It has all the benefits of the previous three levels and others, including Kentucky derby VIP-service ticket and platinum-level benefits at Twinspires elite unique spots.
All elite level players are liable to claim a $20 discount on Brisnet products.
Twinspires Betting Types in Colorado
Win: The win is a low-risk bet and the most common type. It is when bettors collect when they bet on a horse to finish in the first place. The minimum wager for a win at Twinspires racebook is $2.
Place: The place bet is for players to collect when their horses finish in the first or second position, and it has a minimum wagering requirement of $2 at Twinspires.
Show: Here, the bettor collects when the horse finishes in the first, second, or third position. It also has a minimum wagering requirement of $2 at Twinspires.
Exacta: The exacta bet is when players bet for their horses to finish first and second and in that exact order to collect. Twinspires has an alternative to this bet called Exacta box – it is less risky, and is when the horses don't have to finish in the exact order.
Trifecta: The trifecta bet is when you wager on three horses to finish first, second and third, in that exact order. There is also an alternative to this bet called the trifecta box – it is when the three horses don't have to finish in the precise order for the bettor to collect.
Superfecta: This bet is a tough one where you pick four horses to finish first, second, third, and fourth in that exact order.
Multiple Race Betting Options
There is the Pick 3, Pick 4, Pick five, and Pick six betting options.
For Pick 3 – is when you wager on three horses to come first positions in three consecutive races. It has the lowest risk of the four options.
For Pick 4 – is when you bet on four horses to win four different races.
For Pick 5 – is when you wager on five horses to win five consecutive races. It has a higher risk than the previous two.
For Pick 6 – is when you pick six horses to win six different races. This bet is the toughest of all and can give the highest payouts in horse races.
In the Twinspires racebook, there are two groups of bets. The win, place, and show are known as straight bets while exacta, trifecta, superfecta, and the multiple betting options are called combination bets. All the betting types have their specific payoffs for players to collect.
Review of Twinspires Racebook App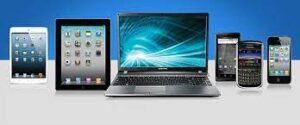 Twinspires Colorado online review shows that the website is optimized to function on several device operators like Android, MAC, Windows, and IOS. The site has different interface options to give players a full wagering experience. There are the classic, express, pro, TV, and mobile interfaces. The classic interface can conveniently monitor up to five races at a time while the express is suitable for small screens and quick wagering time. Pro highlights all the wagering details at once for a glance and is ideal for limited-time wagering. Twinspires TV is a high-definition live-streaming platform that gives you a close-up look at up to five racetracks at a time. You can effectively manage your betting accounts on the mobile interface as you can place wagers, view live videos, and stay updated.
There is a Twinspires free mobile app available on IOS devices on the Apple Store with many high-quality features for easy use, including; live-stream, smooth navigation, and the ability to remain signed-in for last-minute changes. Bettors can make deposits, claim bonuses, redeem points, and keep up with promotional deals. The Twinspires Android app is available for download on the website at no charge. Android users will experience top-notch gaming with the open app features like; betting types, betting information like handicapping and odds, live-streaming, race replays, and access to wagering accounts. Greyhound racing is only available to play via mobile websites and applications.
Twinspires Deposits and Withdrawals

Banking methods such as bank transfer, bills, EZ money, EZ bank, paynearme, green dot cash, money gram, Paypal, debit cards, credit cards, cash deposits, check, and money orders can be used to fund gaming accounts. Visa and Mastercard are used, and you may choose to make deposits by placing calls through the phone to lines available on the site. Credit and debit cards charge $5 to $500 on each transaction with a minimum deposit of $1. Green dot and Moneygram fees may vary from time to time; green dot has a $20 minimum deposit and $500 maximum while Moneygram is $1 minimum and $899 max. Bank transfers are free of charge and have the highest maximum deposit of $1000 with a $1 minimum deposit.
The site also provides a free charged deposit medium called EZ money. It is used to transfer money from savings, money market, and checking accounts to your betting account in little to no time. Paypal only sends money to accounts that have been verified; the deposit charge is $5, while withdrawals attract a $1 fee. Green dot has a $6 price while Moneygram and paynearme have $5 fees each. There are no fees for checks and money orders.
Withdrawal time may take up to five working days on some platforms. Check and money orders are the most delayed with up to five days before a personal check delivers.
Customer Service in CO Twinspires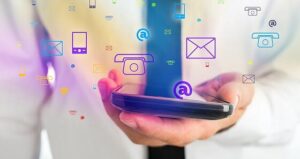 The racebook provides expert assistance with Twinspires customer service available for twenty-one hours, seven days a week. There is a live chat option, phone call, email, and mailing address for players to ask questions and make complaints relating to the racebook operations. Several customers have had similar problems to yours, so it is advisable to look through the FAQ section.
The live chat option is readily available to provide on-the-spot answers to customer needs. It comes in handy for new bettors who have sign-up related issues and seek understanding of the site's affairs before deciding to create an account. Twinspires horse racing phone numbers may be used for deposit or withdrawal requests while email and mailing addresses may be used for extensive complaints and detailed claims.
Recent Updates in Twinspires Colorado
The current pandemic has impacted sports betting at Twinspires. However, the site has managed to stay on top of its activities by reporting updates and new site features. There are a series of downloadable and readable betting guides to help players by boosting potential winnings. Some of them are; the Kentucky betting guide, the Travers stakes betting guide 2022, and the most recent update on how to bet bourbon stakes.
The site updates frequently to reflect new details on harness racing, handicaps, Kentucky Derby, Kentucky Oaks, Preakness Stakes, and other related news.
Conclusion
This Colorado Twinspires review shows it as one of Colorado's best online betting sites for real money betting. It provides high-quality services for a wide selection of top-notch racetracks in the US and abroad. The site strives to create a platform for bettors to earn as much as possible based on expertise and quality predictions. Sports bettors should visit Twinspires Directly in Colorado as their choice racebook for all their gambling activities.
We hope that information from this article was helpful but, if you still have any doubts, do not hesitate to check other reviews that we prepared for you. There are a lot of options on the sportsbooks market in the US (Colorado), and you can be sure that we choose only the best ones for you: 
FAQs
Is Twinspires online racebook legal in Colorado?

Yes, it is. Twinspires is licensed to operate in more than thirty states in the US, Colorado.
How can I check odds for horse races in Colorado?

You can check Colorado Twinspires racebook odds for horse races once you create an account with the racebook site. A licensed site should provide bettors with all the betting details before wagering.
Is there an app for Twinspires?

Yes, there is. Their CO Twinspires app is optimized to work on ios devices, and one for android devices.
Can I bet on greyhound races on Twinspires in Colorado?

Yes, you can. You may bet on greyhound races via mobile platforms like phone websites and apps.
How can I deposit money on Twinspires?

Twinspires have a vast selection of deposit mediums to fund wagering accounts. Banking methods such as bank transfer, bills, EZ money, EZ bank, paynearme, green dot cash, money gram, paypal, debit cards, credit cards, cash deposits, check, and money orders can be used to fund gaming accounts.
Written by: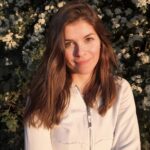 Aria works hard to make sure that residents from different states have access to honest reviews and credible information about the best legal gambling sites. She has a rich experience as a writer, SEO specialist and expert in sports betting. Sports Editor at Luckycolorado.com.
Best DFS Betting Options and Online Sportsbooks to Bet!